Social Sciences
Careers Experts Share Tips with Sociology Students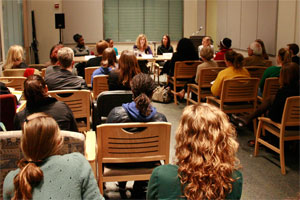 "What the heck do I do with a bachelor's or a master's in Sociology?"
This was the question asked by Sociology chair Kim Blackenship, thus starting the Careers in Sociology event on Wednesday, November 3, 2010, sponsored by the American University Career Center. Students met with experts in a two-hour information session with a focus on networking.
The panel included Carimanda Baynard, a Disaster Behavioral Specialist; Danielle Herbert, a research associate in Social Dynamics; Courtney Shahan, a program assistant for Campaign for Better Care; and Nicole Van Vooren, from the American Sociological Association.
The presentation was not only aimed at providing students with the tools to succeed in a sociology career, but also discussed the many opportunities available to AU students. The presentation opened with a reminder that anyone interested in sociology—even if they are sociology minors—could join the Alpha Kappa Delta Sociology Honor Society. This credential could boost a student's resume and make them a more competitive candidate for a career.
As the night progressed, the panelists offered crucial advice about choosing a career and being competitive in the job market. The most important points are summarized below:
Take advantage of internships. Internships can help you apply what you have learned in class and give you real-world experience. Courtney Shahan stressed that it was her "internship that got [her] a job." This primarily occurred through the connections she formed, but also by showing future employers how qualified she was for a position.
"Utilize the help of your advisors," said Danielle Herbert. The Career Center will not only work to perfect your resume, but also give you an incredible list of career opportunities and resources to aid you in your job search. They will also help you prioritize your best qualities to make sure you have a competitive resume.
Focus your thesis/capstone and develop your interests. "I like old people… I knew they needed my help just as much as anyone else," said Courtney Shahan. Having a strong focus can help determine your career results. This can be a huge strategy to market yourself for a job—if you apply for jobs in that subject area, they may be really impressed by how much you know.
Even your "unconventional" experiences can go a long way. Carimanda Baynard took an alternative break trip to New Orleans to help post-Katrina. She stressed that the "first-hand experience" helped her not only develop her thesis but also made her "extremely qualified to work in the area when [she] graduated."
Additionally, Nicole Van Vooren also advised students not to "sell themselves short: list your skills carefully—even the unconventional ones." Sometimes even having a brief foray into a particular topic can help you get the job you want.
The panelists praised the fact that sociology is so broad a field that one could do anything with the degree. Yet, they admitted that this fact could be intimidating if students didn't know exactly what to do with their sociology credentials. "You understand people and how they work," said Nicole Van Vooren, "and this makes you a valuable asset to any really field that interests you."