Social Sciences
Center Brings HIV/AIDS Experts Together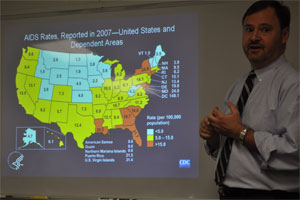 Alan Greenberg, director of a new District-wide National Institutes of Health-supported AIDS research center, spoke on September 29. His talk, organized by the AU Center for Health, Risk, and Society, covered the center's upcoming goals, its mission, and ideas for future research.
The D.C. Developmental Center for AIDS Research (DC D-CFAR), which was officially formed this summer, is one of 20 centers in the country. These groups receive administrative and shared research support from the NIH. The mission is to "provide scientific leadership and institutional infrastructure to promote HIV/AIDS research and to develop the next generation of HIV/AIDS investigators in Washington D.C.," according to the center's website. 

As a center in development, the organization gets five years to establish itself and pass the NIH's criteria to become a "full" or "complete" CFAR—a feat that only one other center has achieved since NIH began the project in the 1980's.

According to Greenberg, the center's goal is to create a community of HIV/AIDS investigators in the District—something that the area is lacking. Currently, Greenberg says, there is no "glue" to bring local HIV/AIDS experts together. This fact is ironic in a city with one of the highest rates in the country.
"It's considered an outrage in other communities that despite having the wealth of the world and some of the most powerful health institutions based in Washington, DC, we have the highest rates of HIV/AIDS in the United States," says Greenberg. "That's a travesty."
He hopes to remedy this problem by bringing together experts and investigators from a variety of disciplines, including biology, medicine, and anthropology. So far, the center is a collaboration of five research institutions: Children's National Medical Center, Georgetown University, George Washington University, Howard University, and Veterans Affairs Medical Center.

Additionally, the center will promote the development of junior, minority, or new HIV/AIDS investigators in the District, according to Greenberg.