Social Sciences
What's It Like to Work at CHRS? Gia Badolato on Her RA Experience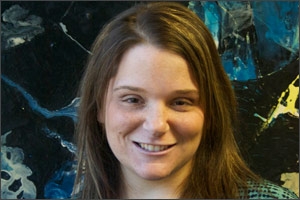 I started working at the Center on Health, Risk, and Society (CHRS) at American University while pursuing my MPH at George Washington University as part of my practicum requirement. I continued at CHRS as a research assistant. 
Working at CHRS opened my eyes to an area of research that I had limited experience in. My previous work focused mainly on HIV surveillance, but at CHRS I was able to work on many different projects and get a feel for the different types of HIV prevention studies. 
I worked with quantitative data collected for Structures, Health and Risk among Reentrants, Probationers and Partners study (SHARRPP), which analyzes interconnections between coercive mobility (the massive migration between the criminal justice system and the community) and race disparities in HIV-related sexual risk, among a sample of non-violent drug offenders in Connecticut. I also worked on a meta-analysis project which involved the selection, review and coding of literature on structural intervention programs in the areas of condom promotion, syringe exchange and integration of HIV prevention into existing health services. 
I used data from the SHARRPP project for my master's thesis.
From day one, I felt like a part of the team. I was given countless opportunities to use my existing skills and gain new ones. The projects that the CHRS staff works on are both U.S.-based and international, which makes for a very diverse staff! One of the best parts of my experience at CHRS was hearing about the experiences of my coworkers and learning how they all got to CHRS. The people make CHRS an amazing place to work; their experiences make them a great resource when you have a question and their personalities make you feel comfortable asking for help!
Gia started a full-time research position in August 2013 at the Children's National Medical Center in Washington DC.

Interested in a research position at CHRS?
CHRS offers paid, unpaid, and credit-based research/internship opportunities for undergraduate and graduate students across its wide range of research projects. Specific opportunities vary depending on the needs of the project and student's interest. For further
information, please visit the CHRS website.

Specific questions may be sent to chrs@american.edu.