Alumni
Professor-Alumna Team Present at International Conference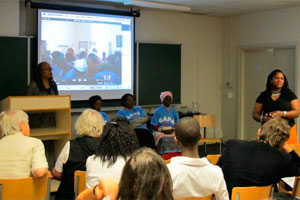 Last December, sociology professor Bette Dickerson and sociology alumna Jennifer Fish, CAS/PhD '03, presented at "Beyond Reconciliation: Dealing with the Aftermath of Mass Trauma and Political Violence," an international conference held at the University of Cape Town, South Africa.
Dickerson and Fish presented "Intergenerational Trauma: Grandmothers' Experiences of Confronting HIV/AIDS in the Aftermath of Apartheid" in conjunction with Grandmothers Against Poverty and AIDS (GAPA), a South African organization that helps grandmothers who have survived apartheid and are now struggling with affects of poverty and the HIV/AIDS pandemic on themselves and their families.
Dickerson and Fish also facilitated a roundtable discussion, featuring 3 GAPA grandmothers and GAPA director Vivienne Budaza. Dickerson and Fish combined photos and videos depicting the grandmothers' daily lives with their scholarly analysis on the resiliency of elder women and how they deal with these traumatic crises.
"The grandmothers are women who lived through apartheid and now confront new forms of structural violence," says Dickerson. "They shared their life stories, providing both vivid depictions of South Africa's contemporary struggles and a compelling model of women's activism and peace building. Their courage and strength is admirable. Their perseverance and endurance in the face of adversity is inspirational."  
Both sessions were based on the data that the pair gathered during their work with GAPA in the summers of 2008 and 2009. Fish, who is director of the Women's Studies Program at Old Dominion University, introduced GAPA to Dickerson in summer 2007. She was in Cape Town with her ODU students, while Dickerson was there as a faculty advisor for Alternative Break: South Africa, a service program run through AU's Community Service Center.
In 2009, Dickerson returned to South Africa with Alternative Break, and included GAPA as one of the several organizations that her students worked with. Dickerson, SIS undergraduate Amber Jolla, SIS graduate student Sarah Gillespie, and students from ODU conducted participatory action research—a method with requires active engagement with and full involvement of study participants—with several GAPA grandmothers. Jolla and Gillespie worked with a Xhosa translator to converse with the grandmothers about their lives during and after apartheid and how HIV/AIDS has personally affected them. The ethnographic data compiled from these conversations became the basis for Dickerson and Fish's presentations.
Dickerson and Fish were also invited to a multi-national small group that met in a 3-day symposium immediately following the conference, "Legacies of Intergenerational Trauma: Cross-Cultural Studies on Dialogue, Empathy, and Reconciliation in the Aftermath of Mass Violence and Genocide." Symposium participants identified main themes from the conference for future examination in a second gathering this summer.