Alumni
Beyond Abortion: Sociologist Surveys Law, Society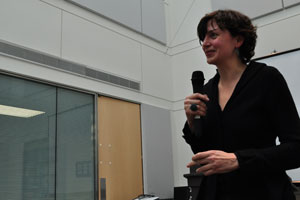 Jeanne Flavin remembers being eight-years-old, sitting down at the kitchen table in her working-class rural Kansas home and writing a letter to her state senator, Bob Dole. In the letter, she implored Dole to oppose the practice of abortion.
"I wrote with the moral certainty that a lot of children have at that age," says Flavin, SPA/MS '91; CAS/PHD '95, who studied both sociology and justice. Her book Our Bodies, Our Crimes: The Policing of Women's Reproduction in America examines the harmful relationship between the criminal justice system and women's reproductive rights. 
She read excerpts from her book, which won the 2010 Sex and Gender Section Distinguished Book Award from the American Sociological Association, and facilitated a discussion and reproductive justice on October 20, 2010 at an event sponsored by Center on Health, Risk, and Society; Department of Sociology; and Women's, Gender, and Sexuality Studies Program. 
Flavin's views on reproductive rights have changed since that early letter-writing campaign, as a result of personal experience. As Flavin attended high school, college, and graduate school, she made friends with women who "faced tough decisions about whether or not to have or to rear a child." As a young intern in at a local juvenile court, Flavin met a fifteen-year-old girl who carted her two children in a red wagon for two miles to the courthouse where she was charged with shoplifting food for her kids—food that she couldn't otherwise afford. 
Experiences like these led Flavin to notice some societal patterns. She argues that the criminal justice system does not just punish crime and enforce the law. Rather, "it enforces notions about who's a good woman or a fit mother, and it punishes women who fall short of these ideals," says Flavin. 
Flavin sees reproductive rights as more than the right to have abortions. Reproductive rights include the freedom to not have children, the freedom to have control over one's own sex life, and the right for mothers to provide their children's physical, educational, emotional, and social needs. 
"This book is about the freedom of a woman to be a healthy, valued member of society, regardless of whether or how she has kids," says Flavin. "To have our bodies respected in a way that isn't connected to our reproductive status or potential." 
The book analyzes state control over three different phases of the reproductive cycle: begetting, bearing, and mothering. Flavin provides a myriad of examples to support her argument. She notes, for example, visiting rights can have a positive impact on children of incarcerated mothers, such as fewer behavioral problems, better self-esteem, and better IQ scores. However, in New York, about 40% of incarcerated mothers with children under eighteen live in a facility that is hundreds of miles from their old town where their children live, according to Flavin. 
"At some of the points in which a woman or girl can benefit most from support—when a teenager becomes pregnant, when a woman is being beaten, when a woman is addicted to drugs and becomes pregnant or gives birth, when a woman is locked up—our official responses are the harshest," says Flavin. 
Though Flavin says she believes women's "strength, resilience, and ability to persevere" are "forces to be reckoned with," she adds that society still has a long way to go before issues, such as the injustices outlined in Our Bodies, are solved. She also says that as long as women's work is measured in terms of their ability or inability to reproduce "correctly" and reproduction is recognized as a standard for social citizenship, inequality will prevail. 
"Until there are fundamental shifts in the way society is structured, introducing marginally more supporting measures, like Amber Alerts or passing less-punitive laws, it is only making a substantially sexist and racist system slightly less sexist and racist," says Flavin "At the root, the answers to complex social problems will not be found in laws and court rulings alone, but rather in broad-based measures that strengthen women's economic status, education, choice-making, autonomy, sexual power, and health care."