Social Sciences
Kim Blankenship Launches Health and Risk Focus at AU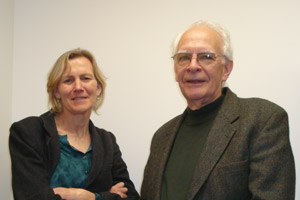 This fall, Kim Blankenship joins the faculty as professor and chair of the Department of Sociology. She will also lead in the establishment of the new Center on Health, Risk, and Society and serve as its first director.
"Dr. Blankenship's arrival signals a significant first step in the launching of a new departmental emphasis on health-related research," says John Drysdale, professor and current chair of the department.
Blankenship is the principal investigator for a number of research projects funded by the Bill & Melinda Gates Foundation and the National Institute on Drug Abuse. These projects focus on such topics as the impact of community mobilization interventions on HIV risk among female sex workers in India, and the HIV risk factors associated with movement between the criminal justice system and the community, as well as the extent to which this produces race disparities in HIV/AIDS in the United States.
"I am very excited to be joining the faculty at American University at a time when the administration is seeking to expand its research portfolio," says Blankenship. "I'm especially excited by the opportunity to build an interdisciplinary focus on health, inequality and society with colleagues in the sociology department and other departments and schools across the university. As someone with a longstanding commitment to research with policy and programmatic relevance, I'm also looking forward to being a part of the DC community. In fact, I hope to expand my HIV/AIDS research in the coming years to include projects in the DC area, where rates of HIVAIDS are higher among Blacks than they are in some African countries. While research is important to me, I've heard many good things about the undergraduate students at American University and I'm hoping to teach a course on gender, poverty and health in the near future. I'm sure I'll be busy this coming year, but I am looking forward to the new challenges."
Blankenship received her BA from the College of William and Mary and her MA and PhD degrees from Duke University. She has served on the faculties of Yale University's Sociology and the School of Public Health and Duke University's Sociology and the Global Health Institute. The department looks forward to her joining the faculty in September.