Social Sciences
Sociology Legacy Fund Established to Honor Retired Faculty and Staff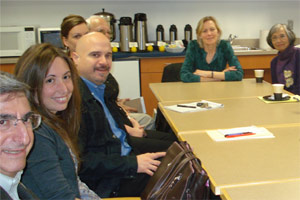 With the retirements of Esther Ngan-ling Chow and Russell Stone, the sociology department established the Sociology Legacy Fund to honor the contributions to a sociological community—within and outside our institution—of our past and recent senior faculty members and staff. Other fund honorees include John Drysdale, Samih Farsoun, Susan Hoecker-Drysdale, Ken Kusterer, Gert Mueller, Karen Petersen, John Scott, Jurg Siegenthaler, and Austin Van der Slice. 
The fund will support AU sociology students in a variety of endeavors related to learning and scholarship. Our faculty has already contributed to this fund, and we are encouraging alumni, current students, and friends to join us in launching this important effort.
In addition to the Sociology Legacy Fund, there are two other funds dedicated to supporting the Department of Sociology. The Kianda Bell Award supports graduate student research and scholarship in the area of social justice. This award was established in honor of Kianda Bell, a doctoral student in the department, who passed away unexpectedly. The second is the Sociology Department's General Fund, which is a discretionary fund that can be used for a wide range of activities.
You can make a gift to the fund by filling out the giving coupon and sending your donation to: 
Dave Weimer
Assistant Director of Development  
American University
College of Arts and Sciences
4400 Massachusetts Ave. NW
Washington, DC 20016-8012