Social Sciences
Students Explore the Sociology of Birth and Death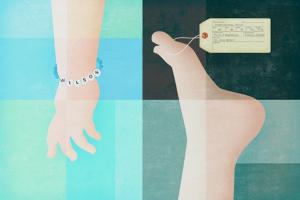 SOCIOLOGY 335: Sociology of Birth and Death 
How's this for homework? To help her students truly understand what it means to plan for the end of life, Professor Andrea Malkin Brenner requires them to sit down with an older family member and fill out a Five Wishes form— a legal document that lets adults plan how they want to be cared for in case they become seriously ill. 
Toward the end of the semester— Brenner covers death first so the College of Arts and Sciences course doesn't end on a down note— students wear backpacks filled with 25 to 30 pounds of flour or rice over their stomachs to simulate the physical toll of pregnancy. 
"We look at how society controls and constrains the arrival and departure from the world," Brenner says. 
Life cycle 
Brenner's AU course covers everything from the morality of euthanasia to the popularity of elective Caesarian sections in the United States to disenfranchised grief, which Brenner says can be experienced by people who incur a loss that is not or cannot be openly acknowledged, publicly mourned, or socially supported. Examples include the death of a same-sex partner where the marriage has not been socially accepted, the loss of an ex-spouse, or even someone mourning a pet that's passed away. 
With field trips to a funeral home and a hospital birthing ward, her students leave class prepared for virtually anything. Brenner says the course usually has a waiting list; some subjects never get old.  
Story appeared in the November 2015 issue of American magazine.