Education
Alumna Endows Scholarship for Future Teachers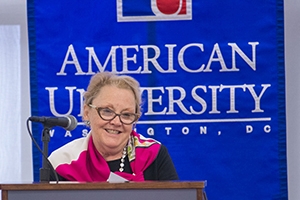 Clara Londoner, BA elementary education '63, understands how far a little extra support can go.
At the age of 10, after her grades slipped in several subjects at school, Londoner was diagnosed with a vague learning disability, which she called a "word problem" (understood today as dyslexia). A dedicated teacher helped her to catch up with her classmates and succeed academically.
Overcoming personal adversity in her own studies ignited Londoner's passion to teach, which was further nurtured during her time on campus as she earned her degree in elementary education. After graduation, she taught and worked in art galleries in New York City while she raised a family. "Even when I worked in galleries, I used my teaching skills to educate people about art and art history," she explains.  
Twenty-five years later, Londoner decided to return to school for a master's in special education at the Bank Street Graduate School of Education. "My children were grown up and well on their way. I wanted to work as an educational therapist," she says. "There is a real need for well-trained special education teachers and specialists, and I wanted to help fill this need."  
Londoner and her husband, David, always believed in the importance of education. For years, they were very involved at American University as donors and fundraisers. After his death in 2012, David left a legacy to the university. "Both David and I always believed the most valuable gift you can give a child is an education," says Londoner. "My sons and I agreed that the best way to use David's legacy was to endow a scholarship, to be awarded each year to a deserving graduate student in the field of special education." 
Londoner worked with the College of Arts and Sciences to establish the Clara F. Londoner and David J. Londoner Scholarship. The award provides financial assistance to graduate students demonstrating their commitment to the field of special education—and, in particular, to art integration and to teaching a diverse K–12 student body. 
Last year, Londoner returned to American University for her 50th reunion—and the official announcement of the scholarship. She also met the first recipient.

"It was an important anniversary for me personally and an important anniversary for the school. At my commencement, President John F. Kennedy delivered his famous speech calling for an end to the nuclear arms race with the Soviet Union. I still remember him flying onto campus in a helicopter. It was a very exciting and important time." 
Londoner reflects on her years at AU. "I do not believe that I could have done all that I did," she says, "without the motivation and inspiration that I received from the exceptional professors at American University. At AU, I learned how to teach, and I've used these skills throughout my career. Once you're a teacher, you're always a teacher."