Research
Student Research Conference Encourages Active Learning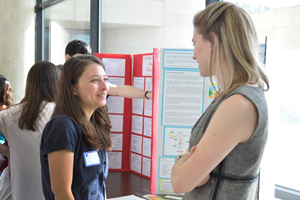 "AU has always placed an emphasis on experiential learning," says Cathy Schaeff, Associate Dean for Undergraduate Studies for the College of Arts and Sciences and a coordinator of the College's 21st Annual Robyn Rafferty Mathias Student Research Conference. "We want to create active learners and scholars."
This year's conference will be presented on April 2 in the Katzen Arts Center and will provide a competitive forum for undergraduate and graduate students to present their scholarly and creative work to those within and outside the AU community. 
"A huge part of scholarship is about communicating to others," says Schaeff. "This opportunity for peer review gives students a real-life experience and lets them see what their colleagues are doing."
Schaeff also says that the conference will expose scholars at AU to those working in the same area but with different fields and backgrounds. "It is professional development for students." says Schaeff.

The conference additionally provides an opportunity for students to work with faculty to conduct research. "When students leave the university, what they most remember are their interactions with people," says Schaeff. "Research creates a bond between faculty and students." 
The conference committee has already received about 200 submissions and will evaluate which submissions will be featured in the conference based on the "completeness and quality of the abstract." 
The conference will also feature cash prizes for outstanding projects. Prizes are divided among the humanities, social sciences, and sciences and are awarded to students forresearch papers,  posters and creative performances. The undergraduate awards are divided into Freshman-Sophomore and Junior-Senior categories.
New this year, the conference will award a "Professional Presentation Prize" to a graduate student whose completed research represents the highest quality research at American University. The winner of this prize will receive an all-expenses paid three-day trip to present their research at a professional peer-reviewed national conference in their field. 
"We want students to understand the broader context of the work they are doing," says Schaeff. "At AU, we're not training students to be participants; we're training them to be leaders in their fields."

For more information, visit the Robyn Rafferty Mathias Student Research Conference website.