Research
AU Students Make Valuable Contributions to Science Faculty Research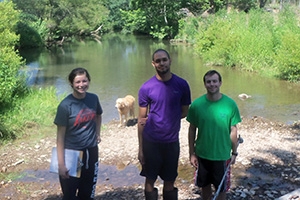 On American University's campus this summer, the science labs were bustling with activity. More than 30 undergraduate students spent these months collaborating with their mentors—AU's science and mathematics faculty—getting first-hand experience conducting research in the lab and in the field.
"These summer research opportunities offer so many advantages to our students," said Nancy Zeller, AU's coordinator of science teaching labs. "They get hands-on lab experience; they work closely with scientists and researchers; and they get to apply what they learn in the classroom to real and ongoing research projects."
Zeller pointed out that each student has a unique experience in the lab. "No matter what you hear about research, it's always different when you're actually doing it. For every ten experiments you set up, maybe one or two will work out, and it's thrilling when that happens. So the students learn how to persevere, solve problems, and be creative and innovative."
From Antibiotic Resistance to Ecohydrology
The students worked with more than a dozen faculty members in biology, chemistry, environmental science, mathematics, physics, and psychology labs. The research projects ranged from skin cancer to magnetic nanoparticles to wireless topographical math.
Jessica Balerna (environmental science '17) and Gabriel Santos (environmental science '17) worked with Karen Knee, assistant professor of environmental science. Santos's research was funded by a Brazilian government scholarship, and Balerna's work was funded by an American University Faculty Research Support Grant awarded to Knee.
"We were trying to assess whether hydraulic fracturing (fracking) affects the quality of the Potomac River, Washington's water source," said Knee. "We sampled creeks and streams that flow into the Potomac, in areas with varying levels of fracking activity. We were particularly interested in conductivity (a measure of the total dissolved solids in water), and the concentrations of heavy metals and radium, a toxic element that has been associated with fracking wastewater."
Knee said that Balerna and Santos's help was instrumental in getting an ambitious amount of field work done in a relatively short amount of time. "They assisted with all field work tasks: collecting and filtering water samples, measuring stream flow and water quality, and navigating on questionable dirt roads through rural parts of Virginia, West Virginia, and Maryland," she said.
"Working with Dr. Knee at the ecohydrology lab during the summer was an amazing experience," said Santos. "I had the opportunity to develop new skills related to lab techniques and field work. And as a student of environmental science, it was nice to apply a lot of subjects I learned separately during my courses to a single research project."
In the Chemistry Labs
Cassidy Hart (biochemistry '17) and Elizabeth (Lizzie) Schott (neurobiology '18) conducted research with Matthew Hartings, professor of chemistry.
Hart was funded by the Chemistry Department's Anthony Schwartz Fellowship, said Hartings. "She is making new materials that will increase the resolution and quality of medical MRI scans. Her work will be crucial for generating a patent that will cover our intellectual property over this technology."
Schott was funded by a NASA grant for studying how metal nanoparticles influence public and environmental health. "Lizzie made many foundational discoveries for our research including an observation plant life is really effective at removing gold nanoparticles from wastewater streams," said Hartings. "Lizzie also developed many of the protocols that we will use for these experiments (in biology, chemistry, and environmental science) as we advance the project."
Summer Undergraduate Research Experience Seminars
The students also had the opportunity this summer to attend eight professional development seminars designed to give them insight into different research-associated topics, and how to develop a career in the sciences.
Sponsored by the College of Arts and Sciences and organized by Zeller, the seminar themes revolved around big data and the importance of communications for future scientists. Five speakers were AU faculty members, and three were visitors:
Ivan Amato, communications and public affairs consultant, US Defense Advanced Research Projects Agency
Maria Giovanni, director of Genomics and AdvancedTechnologies, National Institute of Allergy and Infectious Diseases, National Institutes of Health
Anke Scultetus, NeuroTrauma Department, Operational & Undersea, Medicine Directorate, Naval Medical Research Center
"The students were extremely engaged in the seminars this year," said Zeller. "Big data is going to be more and more of a critical tool in general science research in the future, and we wanted students to understand this. At the same time, we focused on the importance of communication, because the better scientists can communicate, the better they can collaborate, explain their research, and get published."
For More Information
For more information about summer research opportunities, students can stop by the Science Hours on Tuesdays from 3 to 5 p.m. in the Battelle Atrium, attend the Research Open House held the first Friday of classes in January, and talk to their science and math professors.