Faculty Success Story
Professor Challenges "Lonely Scientist" Sterotype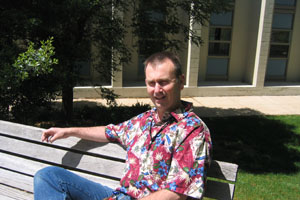 Christopher Tudge researches the evolution of crabs. "Believe it or not, the evolutionary history of crabs is still a mystery. Crustaceans are among our oldest life forms, but the evolutionary relationships between our commonest crabs, lobsters, and shrimps remain unknown," says the biology professor.
In association with a colleague's grant from the National Science Foundation, Tudge analyzes crab morphology and DNA sequences to help map the ancestral tree of crustaceans. For several years, Tudge also directed the professional science master's program, an applied graduate program designed to teach business and administrative skills as well as science to students interested in science careers outside of academia.
"I have my feet in many realms," says Tudge. "Sometimes I am working as a pure researcher at the Smithsonian Institution's National Museum of Natural History, others times I am administering and marketing an AU program. I am a good example of how scientists today need to know more than pure science. They need to be able to communicate scientific knowledge across many channels, manage a project, or even develop a product."
Keeping Ahead of the Curve
Tudge's students earn internships and find work opportunities at many government agencies such as the Environmental Protection Agency and the National Institutes of Health and industries such as Northrop Grumman, Booze Allen Hamilton, and Celera Genomics.
"Industry is changing. There is a great need to expand beyond the lonely scientist in the lab. Our students are supplying the talent that the U.S. government and innovative companies need to ensure they stay ahead of the curve."