On Campus
Ta-Nehisi Coates Speaks at AU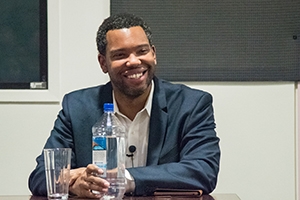 Award-winning Atlantic magazine senior editor and writer Ta-Nehisi Coates visited American University last week and spoke to a sold-out audience about race and reparations.  
Nearly 300 people attended the event, which was sponsored by the College Dean's Office as part of the McCabe Lecture Series. 
Coates discussed "The Case for Reparations," his 16,000-word cover story for The Atlantic magazine. His talk was followed by a moderated discussion, led by AU literature professor Kyle Dargan, and questions from the audience.  
Ta-Nehisi Coates

Coates is one of the most well known journalists writing about race today. Novelist Walter Mosley called him "the young James Joyce of the hip hop generation." 
He was just named one of the POLITICO 50, a list of "the thinkers, doers, and dreamers changing American politics." The Root recently selected him as the top honoree of the Root 100—its list of the 100 most influential African American leaders, innovators, and culture shapers. And his Atlantic blog was chosen as one of the "25 Best in the World" by TIME magazine.  
The Case for Reparations

The "Case for Reparations" cover story, which broke Atlantic website traffic records and sold out at bookstores across the country last summer, is one of the most talked-about works of recent nonfiction. In it, Coates traces the legacy of racial oppression in the United States: 250 years of enslavement, followed by 150 years of what Coates describes as systematic racism and the plunder of African Americans. 
"Slavery is not a bump on the road. It is the road," he said. "It was such a powerful social force, such a powerful social institution, that today I can only compare it to home ownership…Even if your ancestors didn't own slaves, they aspired to owning slaves."  
Reframing the Discussion 
In the article and in his talk at AU, Coates' goal is to reframe the discussion about race in America. As a nation, he said, we need to confront the past and the institutional racism that continues today.  
"It's not about what's wrong with black people; rather, it's what's wrong with American history and society," he said. "There is absolutely nothing wrong with black people in this country that the immediate cessation of white people wouldn't immediately fix. American society needs to do some stuff—black people are just fine."  
Reparations 
Coates made a powerful argument for reparations to African Americans, not only for slavery, but also for subsequent generations of discrimination. "The end of the Civil War was not the end of pushing black people out of American society," he said. He pointed to lynchings, school and church burnings, redlining, education segregation, and the incarceration of African American men. He identified government programs that excluded African Americans as they helped white Americans amass wealth, including the New Deal, Social Security, and the G.I. Bill.  
The idea behind reparations, said Coates, is to reconcile the damage inflicted upon generations of African Americans. It's to acknowledge the reasons behind the income gap between black and white Americans, and to publicly recognize that much of the wealth in the United States was built on the backs of African Americans. 
"As black taxpayers we are given less than. We were paying taxes for a library we can't use, a pool we can't swim in, and education and university system that bars us from attending," he said. This is plunder, and it's why reparations are such a powerful way of looking at history," he said. "We have to pay [reparations] because society did something in our name." 
This Generation 
When a student asked Coates how to talk about reparations to her peers, he replied, "I think this generation is all right. This generation has access to more information than any other generations. You are more informed than any other in American history. You elected the first black President," he said.  
"But your task remains the same as it has always been. It's frustrating. It's hard work."  
Coates said he does not expect to see reparations in his lifetime—or in his son's lifetime. "The amount of work that needs to be done, I think, is the work of generations. This is a long, long fight."