Arts
Ten Years of the Arts at AU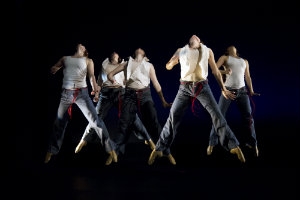 2000: Arts patrons Cyrus and Myrtle Katzen make a generous gift to build an arts center at American University.
2005: The Katzen gift makes a lasting impact on AU with the opening of the Cyrus and Myrtle Katzen Arts Center. The building gathers much of the arts at AU under one roof and quickly becomes a Washington landmark.
2006: AU theatre and musical theatre students travel to the Volkov Theatre's International Festival in Yaroslavl, Russia, to participate in master classes and workshops, the first in a series of cross-cultural exchanges.
The Arts Management Program hosts the first Emerging Arts Leaders Symposium, bringing together arts leaders from across the country to consider the future of the arts and arts management.
2006-07: The American University Museum at the Katzen Arts Center exhibits four powerful shows about visual politics, feminism, social surrealism, and the torture of prisoners of war. The shows establish the museum's reputation for political and socially involved art.
2007: The first Department of Art Colloquium, a collaboration between AU's Studio Art, Art History, and Graphic Design Programs, brings together artists, art historians, curators, designers, writers, and cultural thinkers to discuss contemporary art.
2009: The AU Chamber Singers tour Hungary and Romania, the first of 4 tours of 11 countries.
2009-10: The AU Museum exhibits a series of large-scale shows of Australian indigenous art, new art from Lebanon, and Norwegian art from the 1930s until today. The shows solidify the museum's reputation for contemporary international art.
2010: The Art History Program hosts the first Feminist Art History Conference.
2011: The Studio Art Program hosts the first Kinetic: Conversations in Contemporary Art event, bringing together nationally known contemporary artists with local artists, arts professionals, and students to discuss contemporary art and creative professional practices.
The AU Dance Company is established.
2012: AU offers its first master's degree in audio technology.
2014: CAS and the AU School of Communication establish the game design master's program, spanning communication, computer science, and art. Within a year, it is ranked 21st in the world by The Princeton Review.
The Arts Management Program celebrates its 40th anniversary and the Choral Program celebrates its 80th anniversary.
The AU Dance Program forms a partnership with American Dance Institute.
2015: International philanthropist Susan Carmel Lehrman establishes and endows the Carmel Institute of Russian Culture and History at AU.
2016: Thanks to a major gift from AU alumna and art advocate Carolyn Alper, the AU Museum will open the Alper Initiative for Washington Art, making the museum a vibrant center for DC art and artists.