On Campus
Symposium Speakers Honor History, Music of Terezín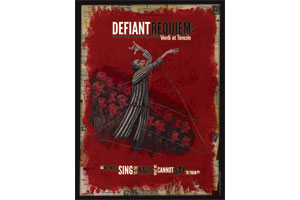 On October 4th, the Jewish Studies program hosts "Terezín Remembered," a symposium honoring the six million Jews that perished in the Holocaust and the music that emerged from the notorious Nazi ghetto Terezin.
In conjunction with the Kennedy Center for the Performing Arts' production of Defiant Requiem: Verdi at Terezín, the first of two panels will discuss Terezín in the context of the Holocaust and its survivors, while the second panel will focus on the significance of the music performed at Terezín.
Defiant Requiem shares the story of Jewish inmates at Terezín that learned to sing Guiseppe Verdi's Requiem Mass with just a single smuggled copy of its score. Conductor and fellow inmate Rafael Schaëchter led the chorus in 16 performances before he died on the death march evacuating Auschwitz. The Kennedy Center's production features a full performance of Requiem Mass along with a multimedia show of photos, survivor testimonies, and additional poignant images.
Pamela Nadell, moderator of the first panel, hopes that "Terezín Remembered" will expose a different focus to the Holocaust other than Auschwitz. "Auschwitz has become a metonym for the Holocaust," she says, "This focus on Terezín provides another window into the history of that era."
"Terezín Remembered" is part of American University's "Voices of Terezín" initiative to increase awareness of the Holocaust and especially of Terezin's place in it. "This project just grew on it's own in really unexpected and organic ways," says Nadell.
The first panel includes Stuart Eizenstat, former U.S. ambassador to the European Union; Felix Kolmer, Shoah Foundation official and Auschwitz survivor; Tomas Kraus, director of Federation of Jewish Communities of the Czech Republic; Dr. Jan Munk, director of the Terezín Memorial; and Pamela Nadell, moderator and American University's Patrick Clendenen chair in women's and gender history.
The second panel, focusing on the music of Terezín, features survivors and original chorus members of the Verdi performances at Terezín Edgar Krasa, Marianka Zadikow-May, and Eva Rocek; author of Terezín, The Town that Hitler Gave to Jews Vera Schiff; and moderator Daniel E. Abraham.
Admission to "Terezín Remembered" is free, but all available tickets have been reserved. Those interested should e-mail judaic@american.edu to request a spot on the waitlist.