In the Community
A Very Thankful Thanksgiving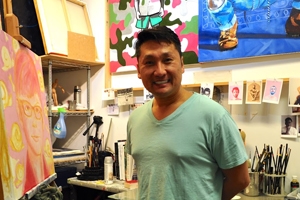 What are you thankful for this year? Students, faculty, and staff at American University answer this question in ways as diverse as the community itself.
"I'm thankful for lots of things. I'm thankful that I have people who care about me. That I'm not alone."
— Robert C. Yi (MFA studio art '15)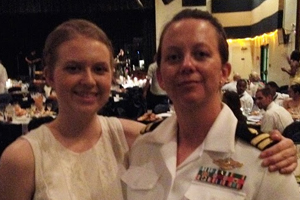 "I'm thankful that my mom is back in the United States. She was in Guantanamo Bay for 18 months as a health officer."
— Ariel Cutter (BS environmental science '17)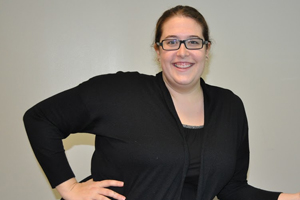 "This year has been about transitions and taking big steps, and throughout the whole process of applying and starting graduate school and quitting my job, I learned who the best people are in my life. I am thankful for my family and for my inner circle of friends both in DC and from back home who dealt with all the highs and lows from getting into school to the endless hours of GRE studying." — Helene Genetos (MA arts management '16)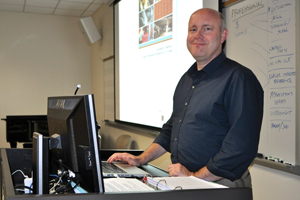 "I'm thankful for my two beautiful kids and my fabulous community here at AU."
— Andrew E. Taylor, associate professor, Arts Management Program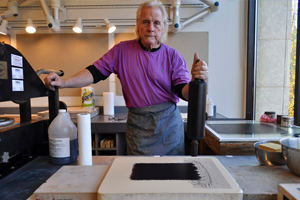 "I'm thankful for family. That's it."
— Scip Barnhart, printmaker in residence, Department of Art
"A friend of mine recently returned from Asia remarking that her travels offered her a better perspective on life. I remember experiencing a similar sense after leaving the Dominican Republic. A cab driver there called it the most beautiful prison in the world. This year, I am reminded to be thankful for everything we so easily take for granted. We have many opportunities to experience a much broader version of ourselves. I try not to lose sight of that fortunate reality."
— Mohamed Sheriff (MFA creative writing '16)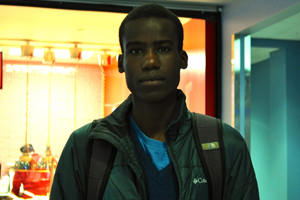 "First and foremost, I'm thankful for my health. And I'm thankful that I'm living in a city."
— Charles Breen (BA undeclared '17) 
"I'm thankful for my wife and family."
— Craig Moschouris (MA history '16)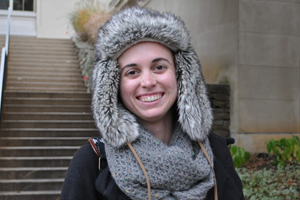 "I'm thankful to be young in a world full of exciting challenges."
— Rachael Somerville (BA environmental studies '15)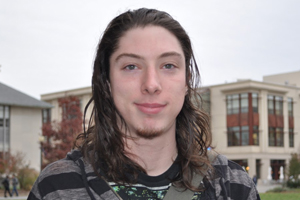 "I'm thankful to be here. I'm thankful for my family and their support of me."
— Joe Blaine (BS audio technology '18)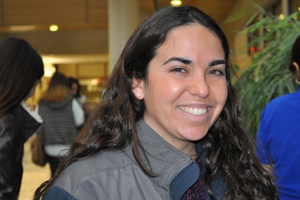 "I'm thankful for my friends and family for being a good support system. I'm just thankful for everything."
— Sela Grabiner (BA public health '15)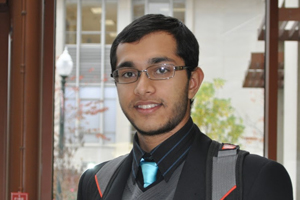 "I'm thankful for the opportunities that AU and the whole activities life on campus have given me — in philanthropy, in internships, and leadership positions."
— Mahdi Khan (BA CLEG '17)
"Collegiality."
— Jenny Wu (MFA studio art '15) 
"This year I am especially thankful for Florida. I am just glad that it exists and I can imagine myself there, on the beach in the sun, drinking a gin and tonic."
— Nathan Harshman, chair, Department of Physics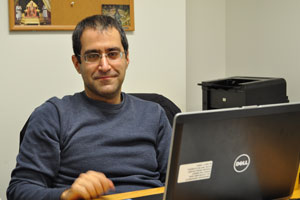 "I'm thankful that the term is coming to an end soon."
— Pedram Partovi, assistant professor, Department of History 
"I'm thankful that I got fed well this year. My boyfriend cooks really well! He's from the south, so lots of bacon fat and butter."
— Lauren Van Alstine (BA psychology '15) 
From all of us at American University, have a happy Thanksgiving!