In the Community
A Culture of Service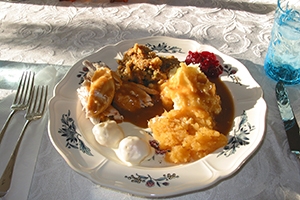 This Thanksgiving season, many families and individuals across the district will not have a place to go or a special meal to prepare. That's why students and faculty across campus are working together to bring food and gifts to families in need. For students, the opportunity provides perspective on their own privilege, while giving them the chance to give back and get to know the city around them.  
Following is a sampling of Thanksgiving Volunteer efforts across campus. 

A Wider Circle 
The College of Arts and Sciences Dean's office will be partnering for a second year with Silver Springs-based charity A Wider Circle. This partnership will raise funds to provide a single family with a full Thanksgiving dinner. 
"AU in particular has a culture of service, and I think supporting local efforts to help those in need is an important part of that," says Alyssa Röhricht, special assistant to the Dean. "Our office was very excited to donate to A Wider Circle last year, and I anticipate the same level of enthusiasm for giving again this year."  
A Wider Circle seeks to end poverty for individuals and families across North America.  
We Are Fortunate 
These past few weeks, Chi Alpha Campus Ministries partnered with DC Central Kitchen for a campus-wide canned foods drive. The proceeds will be transformed into a Thanksgiving meal and distributed to the homeless.  
The students within the organization divided themselves into groups, with each group competing to donate cans together and earn points. Cans were collected in the lobby of Kay each week before the Thursday Night Worship service.  
Stephanie Large, the vice president in charge of community service, reported that 673 cans had been collected at the close of the drive on November 13. 
"I was hoping to get 200. We had a total of 673, which exceeded my goal by over 400 cans," Large says.  
"I think it is very important for students to be involved in volunteer efforts because they help people who are in desperate need of help. We are so fortunate and really don't take the time to think about those who are less fortunate than us, but these volunteer events cause us to step back and reflect on what is important in life."  
Chi Alpha Campus Ministries is a nationwide organization organization dedicated to the spiritual growth and service leadership of its students. 
DC Central Kitchen aims to reduce hunger by serving healthy school meals and training unemployed adults for culinary careers.  
A Book to Every Child 
Pre-medical fraternity Phi Delta Epsilon is planning a mega-book drive starting on Saturday, November 22, to benefit Children's Miracle Network Hospitals. The drive will be structured as a competition within the fraternity, with teams trying to obtain the largest number of books to be donated.  
"We have been informed that they are currently running low on children's books, so we are hoping that our efforts will bring a book to every child," says Phi Delta Epsilon officer Anand Adhikari. "We will be reaching out to the local community bookstores in order to obtain books that can be donated. We hope to have this event on November 22 and 23."  
Children's Miracle Network seeks to raise funds and awareness for local children's hospitals across the U.S. and Canada. 
Forging a Connection 
Service fraternity Alpha Phi Omega also hosted a food drive, seeking to collect food that could be distributed to low-income families in Ward 8.  
"The APO food drive was pretty small because it was last minute," says student Rachael Somerville, who ran the drive. "I started it because when I volunteered at Cox Farms with Horton's Kids, one of the leaders mentioned that she had been trying to get in touch my organization for the purposes of doing a Thanksgiving food drive. So I decided to take the lead on it." 
Horton's Kids provides tutoring and mentoring services as part of an overall effort to empower children and families.  
The drive collected 59 Thanksgiving-related food items, all donated by APO brothers. Somerville delivered them to Horton's on November 12, for distribution on the 20. 
"I think it's important that AU kids do service: I do community service to connect with areas of DC that I wouldn't normally go to," Somerville says. "Community service is important to me because I have many privileges that my neighbors do not. Offering my time and resources toward pressing causes empowers me to help solve problems, rather than be a bystander."

"We get stuck in the Northwest bubble and fail to see the pervasive inequity that characterizes this city. Giving back to the community can begin to close that gap by providing key services to vulnerable populations. That's what gets me excited about service."