Achievements
An "All-Around Artist"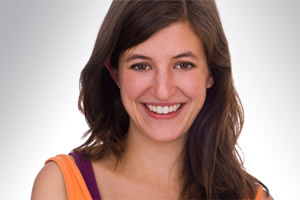 The late concert pianist and AU music professor Evelyn Swarthout Hayes is revered as an early supporter of interdisciplinary music education—a practice that was virtually unheard of during her teaching career in the 60s and 70s. Now, more than 50 years later, the pioneering professor's spirit is alive and well in the AU theatre community. Theatre major Catherine Bullard, CAS '10, recently won the Evelyn Swarthout-Hayes Student Achievement Award for contributing to the university through the arts while maintaining a high academic average.
While at AU, Bullard participated in a variety of theatre projects—both on- and off-stage. In her senior year, Bullard was executive director of AU Players, the on-campus student acting group. She also participated in an array of shows sponsored by the Department of Performing Arts throughout her four years at AU, with one of her favorites being the 2009 production of Tartuffe, a classical-style French comedy written in the late 1600s, in which she played Elmire. "I like that style of theatre a lot," says Bullard. "I also really like physical and interesting new works, which is very different from classical theatre; oftentimes, with new works, the actor is creating the work along with the director, which is totally different from how most other theatre works."
Caleen Jennings, cochair of the Department of Performing Arts, nominated Bullard for the award because of her range of talents. "Catherine Bullard is an all-around artist," says Jennings. "As an actor, she gives 100% to the ensemble and creates characters with depth and nuance. As a scholar, she is a curious and engaged researcher. As a writer and translator, she is culturally sensitive and respectful to the many layers of meaning that translations involve. As a producer, she is skilled at company management, promotion, and many facets of production. She represents the best of theatre as a collaborative art."
Post-graduation, Bullard is now rehearsing with the Virginia Shakespeare Festival, and she is performing in their summer productions of As You Like It and Man For All Seasons. "The professional actors that I work with are so wonderful to learn from because they're so experienced," says Bullard. "So many actors in the show are so good and they want to bring so much to the table immediately." She plans to move to Chicago in the fall to further pursue her acting career.