Achievements
A New Start for the Arts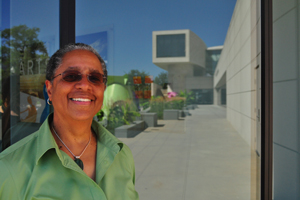 Caleen Jennings, cochair of the Department of Performing Arts and professor of theatre, was recently named to the newly-formed D.C. Public Schools Blue Ribbon Commission. Composed of prominent artists and philanthropists from a range of artistic disciplines, the commission aims to help plan a new, citywide arts middle school for students in grades six through eight.
"Chancellor Michelle Rhee and Chief of the Office of Family and Public Engagement, Dr. Peggy O'Brien, are putting the arts at the heart of an innovative and dynamic middle school with a commitment to excellence," says Jennings. "I am honored to represent AU's Department of Performing Arts on the panel of outstanding D.C. professionals who are working on this project and I look forward to involving more AU faculty and students as the work unfolds."
According to a press release from DCPS, study of the arts is proven to assist student learning and achievement in multiple disciplines, such as reading and math, as well as students' thinking skills and motivation to learn.
Other members of the commission include Michael Kaiser, president of the John F. Kennedy Center for the Performing Arts; Wynton Marsailis, jazz musician and artistic director of Jazz at the Lincoln Center in New York; Tony Gittens, director of the DC International Film Festival; and Peter Jablow, president and CEO of the Levine School of Music. The school is set to open in fall 2011 and, according to the DCPS Web site, will provide "first-time opportunities in rigorous arts education for students across the District."