On Campus
Orpheus Descending Portrays the Duality of Passion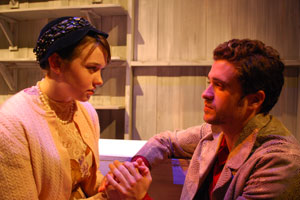 Tennessee Williams's Orpheus Descending presents passion as a dichotomy of love and violence.
"It's a story about awakening passion within ourselves. Sometimes passion is not particularly constructive—it may be hostile, angry, and destructive. But the story is also about passion that evolves in a very romantic way," says Carl Menninger, the director of Orpheus Descending, which runs February 24-26 at the Harold and Sylvia Greenberg Theatre. "While audiences are drawn to these topics, the play also raises serious questions to important issues."
Orpheus Descending retells the ancient Greek myth of Orpheus and Eurydice, and is set in a small southern town in the 1950s. Like Orpheus, the central character, Valentine Xavier, known as "Val," is a lonely drifter and musician, who vows to never love again after losing a past love. Val steps into a dry goods store that represents a microcosm of small town life marked by racism, sexual frustration, conformity, and narrow-mindedness.
Val, a guitar strummer with a checkered past, lands a job working for a woman named Lady, who feels trapped in a loveless marriage and a boring, small-town life. Lady finds herself attracted to Val and the possibility of escape that he represents. The play describes how passion is repressed and recovered, and, in this case, how it leads to tragic consequences and a dark climax.
In 1957, Williams wrote that Orpheus is "the tale of a wild-spirited boy who wanders into a conventional community of the South and creates the commotion of a fox in a chicken coop. But beneath that now familiar surface it is a play about unanswered questions that haunt the hearts of people and the difference between continuing to ask them ... and the acceptance of prescribed answers that are not answers at all."
Ryan Graham, BA psychology '05, plays the lead, Valentine Xavier. In addition to attending regular rehearsals, he learned how to play the guitar for this role. "I've been practicing day in and day out for months," he says.
After graduating from AU, Graham studied acting in Los Angeles and worked as a professional actor in Toronto, Canada, where he has done television and commercials. He recently played his first role in a feature film, Stacking Chips.
Graham also acted as a role model to student actors throughout rehearsals, according to Menninger. "It's been invaluable for students to watch a professional actor at work, witness his work ethic, to see him modeling the behavior that we're looking for from our students, both artistically and professionally," says Menninger.
Kelsea Edgerly, BA musical theatre and broadcast journalism '11, who plays Lady, agrees. "If you want to sit down and have a conversation with Ryan about something—whether it's about acting, show business, or living in Los Angeles—he's very open to questions about acting as a career," she says.
"Lady's not your typical ingénue or romantic lead," says Edgerly, who has acted in numerous AU productions, including Romeo and Juliet, Nine, and Thoroughly Modern Mille. "She's older and has had a lot of life experiences that I haven't had yet."
But the cast of Orpheus Descending isn't your typical cast either; each actor rises to the challenge of difficult role. Menninger says the students' work has been outstanding. "The level of commitment and passion that the students bring to this production is really inspiring to me," he says. "Going to rehearsal is such as a joy, because it's been such a creative, collaborative, and artistic endeavor."
"Everyone in the cast—even the ones with the smallest parts—does their homework as much as anyone else in the show," says Edgerly. "The ones who are not always on the stage are just as engaged and are as engaging as the people who are on the stage the entire play." Graham agrees, "All the students are so talented and gifted—I'm lucky to be working with them."
Graham's experience as a student at AU affected him "very deeply." Although he was a psych major, he decided to give acting a chance in his senior year. As a result, Carl Menninger's Acting Fundamentals I and II classes changed the course of his career. "It was the beginning of the end for me—I fell in love with the process of acting," he says. "I often go back to what I learned then. Part of the reason why it's so enjoyable to be back at AU is because this is where it started."
In AU's theatre program, professors end up as your mentors, says Edgerly. "Their doors are always open. It's not a huge program; the professors know all of us by name. It feels like a community rather than 'you're my teacher,' and 'you're my student,'" she says. Graham's and Edgerly's love of acting—their passion for the stage—started at AU, as it has for countless others before and after them.
Tickets: $15 regular admission, $10 AU community and seniors.