Arts
Russian Director Adds Fresh Spin to Three Sisters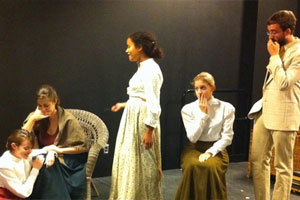 Alisa Ivanova, a visiting Russian stage director and professor from St. Petersburg State Theatre Arts Academy, leads students in a special performance of Three Sisters at Katzen Arts Center from October 7 to 9. She brings a new approach to acting, and as a consequence, a new significance to the drama.
Written by Anton Chekhov, Three Sisters is the tale of three young women's suffering while teetering on the edge of their unfulfilled dream of returning to their hometown, Moscow, after the death of their father.
"All of us have some ideal expectations or ideal dreams, or our deepest wants, and very often they don't come true," says Ivanova. "This story gives you the chance to explore why those deepest wants we live for don't come true."
While the play expresses a universal message, Ivanova brings a distinctive Russian experience to the drama. She stresses the importance of "living on stage" versus "performing on stage," a unique aspect of Russian theatre. "Chekhov says people eat, drink, wear their jackets, and while they do that, their lives get ruined, ideals get dissolved. They don't notice they've lost everything, just as we don't. It's very important to just get the flow of normal everyday life," she says.
True to Chekhov and Russian theatre, students practiced improvising in preparation for such a new acting technique. "They have to be completely natural on stage, completely natural. They were so great to understand that from the very beginning. This is a very different way of being on stage," she says.
Ivanova believes that features of the creative process, like the concept of existing on stage, form a bond with the story to make a more full production. "Afterwards, it gets connected to the vision of the play, its mood, its structure, its flow. This is my personal message," she says.
With a powerful theme and distinctive approach to theatre, Ivanova is hoping Three Sisters will offer the AU community and Washington residents a new insight to their lives. "Many people living here still believe they didn't reach their ideals. Maybe they will realize that, maybe they will look deeply into themselves and ask themselves 'What can I do to make those dreams come true?'"
Tickets for the performance are $10 for AU community, and $15 for all else. See AU Arts Calendar for more information and show times.