Arts
Director, Lead Discuss AU's Production of Tommy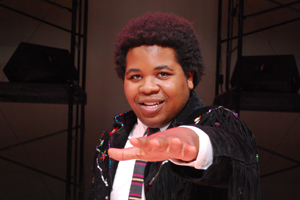 The rock opera is a rock album that takes the listener through an entire storyline using a common theme. Today, that term has expanded to cover the stage as well.  One of the pioneers of this genre is The Who, who released the rock opera Tommy in 1969, and in 1993 rewrote the album for production on stage.

Tommy is the story of a boy who goes deaf, blind, and mute after he witnesses his father kill a man. While his family desperately struggles to find a cure, Tommy is stuck in his own world. Then, Tommy finds something that provides him release—pinball. After his miraculous cure and crowning as the "pinball wizard," Tommy tries to handle the temptations of stardom.

The director of the show, performing arts professor Javier Rivera, and Eddie Leavy, the senior student actor playing Tommy discuss their perspectives on the AU production.

Why Tommy? Why did you decide to audition for/direct this show?

Eddie Leavy: I wanted to work with Javier. His production of La Casa de Bernarda Alba last year blew my mind, so I felt I needed to be involved with this production. I also like the fact that this production of Tommy really pushes the envelope. I like doing theatre that really matters. It's like Javier says, "We are doing this for the underdog, for everyone who faces adversity."

Javier Rivera: I knew that I was going to direct the Greenberg show, and I wanted to choose a show that had a large cast of women, because we have a lot of women students in the department. One of my former students pointed me toward Tommy and I knew that was it. It is a rock opera that isn't afraid to "go there;" a darker piece that makes a real statement.

Can you talk about the audition process?

EL: I was abroad in Prague when I auditioned for the show. Being abroad and sending in a tape for the audition places you at a disadvantage, because the director can't work with you. I thought I would be lucky to be cast. But I had a friend in Prague who had a video camera, he taped me, and I sent it to Javier.

JR: Via Youtube.

EL: Right, via Youtube. I was still in Europe when my friend called me and told me to check my email. The cast list was out.  So I checked my email and saw my name under the role of Narrator/Tommy. I thought, "There's no way." It was one of the most surreal moments of my life because I never saw it coming. It was a complete shock.

JR: As a director, you are always looking for someone to come into an audition and surprise you. However, when Eddie was a student in my class, I remember thinking that there was something in him for Tommy. He thought he didn't stand a chance, but from the beginning I was thinking about him for the show.  After I saw Eddie audition, I saw that he was the perfect vehicle to tell the story. I didn't have a musical director, but the accompanist who helped in the casting saw the audition video and thought that he would be a perfect fit too.

Why was there no musical director?

JR: We were recruiting a musical theatre or music department faculty member who would musically direct three shows in 2011-2012, but the position wasn't filled until just before the start of this semester. The show, however, was cast toward the end of last spring. The audition accompanist helped with the singing auditions, though. So things happened as they were meant to.

What is unique about the casting?

EL: Honestly, I think I was a unique choice. [Being an African-American], I never saw myself playing Tommy. But this isn't your average production of Tommy, either."

JR: That was part of my vision. I made a lot of deliberate creative choices when it came to casting, because this production is a very creative, outside-the-box production.  That's how I like to work on any project. I like to ask, "What has not been done before? How can I tell the story in a new way?"

Can you talk about casting an African American in the role of Tommy?

JR: It's no secret; he's a black actor. But as a director, when I cast a minority in a role, even if I am not trying to make a statement, a statement is being made. Racism is still an issue that needs to be addressed. A black Tommy has been done before, but it certainly is non-traditional.

EL: Throughout my theatrical experience, I've never had the chance to take center stage and be the lead, because there just aren't that many black lead characters. This has given me more confidence in my ability to be a leading man and be the focus of a show.

JR: And that is what American University theatre is all about—for students to have the chance to explore aspects of themselves in a safe environment. That's our responsibility as educators.

Why should people come see Tommy?

EL: Well, people already know The Who. But this is also a fast-paced musical that provokes you to think about your own life. It will turn heads and inspire people.

JR: Yes, this is big. We are taking a lot of risks, and it's scary. People may love it or hate it, but they will learn something from it, and it will speak to them in one way or another.

Tommy will run October 20-22 & 28-29 in the Greenberg Theatre.  For more information, visit american.edu/auarts.