Achievements
Gender and Sexuality Wonk Earns GLBTA Activism Award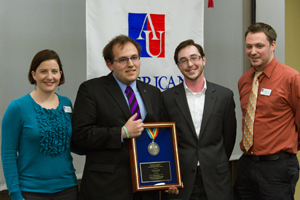 After years of passion and dedication to the gay, lesbian, bisexual and transgender community, Tonei Glavinic, CAS/SPA '12 , was honored this year at the annual GLBTA Resource Center Awards Ceremony with the Richard L. Schlegel National Legion of Honor Emerging Activist Award.

The award, named after an alumnus who pioneered GLBT activism, honors any high school students or any current undergraduates—contingent on their ability to attend the award ceremony on campus—who exemplify superior activism, advocacy, education and training, effective media coverage, outreach, policy-making, prevention, social services, and/or liaison work in the GLBT field. Award recipients are involved with at least one of these activities as it relates to the GLBT community.

While the award is housed at the university, Glavinic is the first student to receive it while currently enrolled at AU.

"I didn't really think that I was going to get it in part because I went to AU and because it had never happened before. I was really excited and definitely felt very honored to be able to receive it," he says.

While he may have doubted his chances of winning the award, Glavinic has proven his worth over many years of activism and policy-making change. The undergrad is currently a women's, gender, and sexuality studies, and political science double major. He's also in the process of earning a certificate in women, policy, and political leadership from the university's Women and Politics Institute and is featured as a gender and sexuality wonk on the American Wonks website.

Glavinic's been a leader for GLBT issues since he was in the eighth grade and has stuck with his passion to create change for those facing discrimination and harassment ever since. Glavinic's work affects people as close to him as his peers at American and extends out to a national level. He recently served as the Executive Director of Queers and Allies, one of the university's largest student organizations, and is currently working on a project that could potentially reach hundreds of thousands of other college students.

On a broader plane, Glavinic developed a user-generated virtual resource center called the TONI project for the National Center for Transgender Equality (NCTE) that provides transgender students, staff, and faculty at universities across the country with information on each school's policies related to transgender issues.

"Eventually people will go on there and write information about their school on official policies and how to get things done," he says. "At AU we don't have a written housing policy for transgender students—it's handled on a case by case basis."

The website portal is a safe, one-stop information and support guide for transgender communities during a time that can be very difficult for many students. At American, for example, if a transgender student has a question regarding their housing, the portal can provide a reference on who to call at Housing and Dining to assist the student with their needs.

The project began when Glavinic began interning with NCTE in 2009, and it finally came to life on the internet with grants that he's helped earn. "I'm super excited and it's something that I want to stick with and see through. Eventually it will get populated with a lot of information and have a more permanent home," he says.

While this activist enjoys giving back to his peers and community, he says he's unlikely to stay in one community for too long. One of Glavinic's passions is traveling. He's planning to move around the country frequently once he earns a master's degree and develops a career in GLBT advocacy or reproductive justice.

"I don't really know where I want to end up. I'm just going to see where life takes me and what kind of positions open up, and where I can have the greatest impact," he says.