Science
Balancing Development and the Environment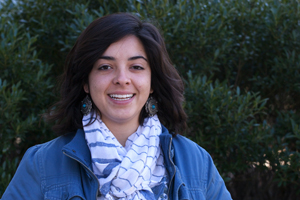 Triana Tello Gerez, environmental studies and economics '13, grew up in bustling Mexico City, but she also spent time on her mother's family's farm in the countryside. Living in two vastly different locales was what sparked her interest in development issues. "I knew that development was good, but I also saw what development could do to the environment," she says. "Because of how I grew up, I'm especially interested in sustainable development, particularly the community building part of it."
When Tello Gerez came to AU, she wanted to find a way to blend her interest in development with her passion for environmental issues. She joined Eco-Sense, AU's environmental club, and is now vice president and sits on the club's executive board. Eco-Sense brings in speakers to educate others about environmental issues, and it provides other perspectives on how to approach these issues with fresh eyes. "It makes you think about not just solutions, but alternatives," says Tello Gerez.
When she served as the environmental justice director for the group, her favorite role, she was able to bring together social justice issues and environmental problems. "As the environmental justice director, I helped spread awareness around campus about issues like the oil spill in the Amazon rainforest in 2009— the issues that many people don't think about," Tello Gerez explains. "Sometimes people think, oh, my electricity's coming from somewhere, but I don't need to care about it. But people are being hurt because of that."
She's seeing these issues come up in her economics classes too. "In a lot of my classes, we've talked about development, and the environment always comes up," she says. But she felt like a midpoint between the two was missing.
Tello Gerez spent last summer studying abroad at the London School of Economics, where she enrolled in an environmental economics class. For the first time, she could see how both sides can work together. "The environmental economics part was very balanced," she explains. "It wasn't all about saving the environment, but it wasn't all about destroying it either." This semester at AU, she's taking Environment and Development, a perfect extension of her overseas studies.
While she's not sure whether she wants to attend medical school and work in developing countries or work in another part of the world with environmental development non-governmental organizations, she knows that she wants to be involved in feasible sustainable development. "We can't just step back from all technologies, because we've grown so accustomed to them," she says. "But we do have to do something. I would definitely put alternative technologies up there as a sustainable energy option, but even then it's not the whole solution." 
The way Tello Gerez sees it, it's all about moderation and compromise. "As a species, we should care about each other—that's why people think about development and economic growth," she says. "But at the same time, we can't indefinitely do things the way we're doing them now because we have limited resources. We have to think about how we're going to make it so that future generations can still have the opportunity to enjoy the quality of life that we have."