Internships
Walters-Storyk Design Group Internship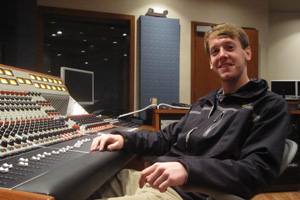 After years of planning and eight months of construction, AU's audio technology program finally moved into its new studio space in January. Designed by the Walters-Storyk Design Group and located in the Kreeger terrace, the lab will house 6 faculty and 70 students.
Built and outfitted at a cost of nearly $2 million, the studio contains three recording rooms, mixing and post-production suites, a digital audio room, and an impressive array of high-tech equipment.
"All this stuff is state of the art, what you'd see in a professional recording studio," says John Geraghty, BS physics and audio technology '11. He should know. Geraghty has devoted the last few months to setting up the gear and preparing for the studio's opening— good experience for his postgraduation internship at Walters-Storyk, which begins this summer.
"I got real excited when I heard [Storyk] was doing our studio," says Geraghty. Storyk and his team are known for their high-profile designs for artists like Jimi Hendrix, Alicia Keys, and Bob Marley. When Storyk came to lecture at AU last year, Geraghty approached him to ask about the company's internship program. He needed no further encouragement when Storyk told him to apply.
Geraghty will intern at the design group's office in Highland, New York, where he'll be working with some of the best architects and acousticians in the business. "There are a ton of people who [will] have so much knowledge, and hopefully I'll be able to learn a lot and grow," he says.
With that exposure, along with his classes in studio management, acoustics, and studio technologies, plus his hands-on lab experience, Geraghty says he feels prepared and excited for his internship.
"Audio technology has taught me to be a consumer, so I know what I want a studio to sound like and what a studio should have in it."
Looking toward the future, Geraghty plans to absorb as much as he can about acoustics during his internship.
"At this point, I would love to do exactly what this internship entails," he says. "I would love to design recording studios—look at a blank space­­ and make it state of the art, make it perfect."