Social Sciences
Framing the Public Fetus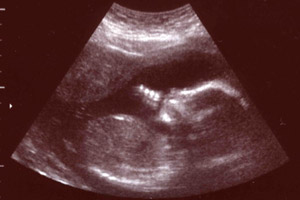 The abortion debate has long hinged upon whether pregnancy is a public or private event, with pro-choice activists championing the right to privacy at the heart of the Roe v. Wade decision and their pro-life counterparts arguing that abortion has public ramifications. But Lisa Plotkin, CAS '10, argues that the public/private spotlight has moved away from the pregnant mother and onto her fetus.
Inspired by an internship at the D.C. non-profit Feminist Majority Foundation, Plotkin spent her fall semester on a project characterizing the phenomenon of the "public fetus"—a term coined by academics to describe the personified, independent characterization of the fetus used in abortion debates. Her report on her research, "Framing the Public Fetus: Sonograms and Ultrasounds in Crisis Pregnancy Centers," received the prize for best social sciences paper by a junior or senior at the Robert Rafferty Mathias Student Research Conference on March 20.
Created by modern technologies, such as ultrasounds and sonograms, the public fetus, according to Plotkin, has several characteristics: it is given a gender, it is ascribed intention and emotion, and it is portrayed as separate from the mother entirely. "It's necessary to completely remove [the mother] from the picture and think of the fetus as an individual that exists in and of itself," says Plotkin. "In images of the fetus, you never see part of the woman's body, not even her organs or placenta."
Plotkin researched the presence of the public fetus in literature disseminated by Crisis Pregnancy Centers, or CPCs. While these non-profit facilities advertise counseling services for pregnant women, they are most often non-medically affiliated non-profits that frequently promote a pro-life agenda.
For her research, Plotkin went to 9 CPCs in the Metro area that are part of Care Net, a Christian-based, pro-life organization that sponsors over 1,000 CPCs nationwide. At each center, she took all available literature, pretending to be seeking consultation herself. After analyzing the literature, Plotkin concluded that CPCs were utilizing fetal images from sonograms and ultrasounds in order to personify the fetus.
"The language was focused on small details of fetal development, like eyelashes and fingernails," says Plotkin. "They also used the 'Day 1' strategy, where they would say, 'On the first day of conception, you are uniquely you.' So they automatically ascribed a unique, individual personality to a fertilized egg."
Plotkin argues that the public fetus has altered the discourse around pregnancy, by separating the fetus from the mother. Because ultrasounds are considered to be a "hallmark of the pregnancy experience," they influence how pregnant women view their own bodies as well as how society views them. CPCs are, in turn, "using these technologies in their fight to end abortion."
A double major in women's, gender, and sexuality studies and history, Plotkin wrote the paper as part of her Current Issues and Research in Women's and Gender Studies course. Her final history thesis also won the 2010 Janet Oppenheim prize for best senior thesis.