Science
Jamming at the White House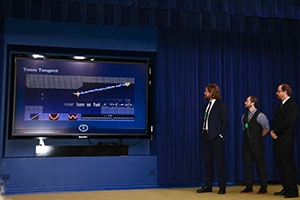 Earlier this month, three American University professors spent an intense weekend at the White House showing off their video game skills.  
It was all part of the first White House Educational Game Jam, a 48-hour challenge to develop prototypes of cutting-edge educational video games for children. Computer science professors Mike Treanor and Josh McCoy were invited to participate, along with AU Game Designer in Residence Chris Totten. They were part of a group of 102 developers and game designers representing Disney, Sony, Ubisoft, and other leaders in game development.  
"It was great to be invited to this event along with such well-established industry professionals," said Treanor. "Josh and Chris are the newest members of the AU Game Lab, and it was a lot of fun to work as a team with them and create something together over a weekend. We look forward to putting some finishing touches on the game and releasing it in a few months." 
Engaging Students in Learning 
The jam, organized by the White House Office of Science and Technology Policy and the U.S. Department of Education, was developed in response to President Barack Obama's 2011 call for investments in "educational software that's as compelling as the best video game."  
Treanor said that the White House's sponsorship of the event illustrated the potential of video games as valuable education tools for teaching academic subjects and building critical problem-solving skills.
"In case people still had doubts, having the White House sponsor a game jam proves that games are no longer seen as distractions for children," he said. "This event is symbolic of games being recognized as an important cultural form with huge educational potential."

The Challenge 
The challenge was to develop an educational video game that met academic standards for grades K-12. The 23 teams had until 7 p.m. on Sunday night to develop a game prototype and create a two-minute video. 
The AU team created Function Force 4, an action-packed math game. Users fly on a spaceship and transform mathematic functions to aim and fire a laser cannon. This allows them to defeat enemies, collect items, and activate switches. 
"Our goal was simply to make a fun educational game. Changing the frequency of a sine wave looks cool and is fun. There's no reason why it shouldn't be taught that way," said Treanor. "We tried to make a game that didn't feel like it was trying to force you to learn."  
Treanor explains that video games like Function Force 4 let students learn by doing. "I believe that the power of educational games lies in making the educational subject the object of play," he said. "In Function Force 4, the player controls the shape of their blast by modifying math functions. While these topics are taught in high school, I don't think people really get it until much later (and many people never do). Personally, while I could pass tests with questions about this topic, I never truly understood it until I programmed using it—until I was able to play with it." 
Function Force 4 was featured in a USA TODAY article and on gaming review site polygon.com. Gameskinny.com said it had the potential to make the top math game list this year. 
The AU Game Lab 
Treanor, McCoy, and Totten all work together at AU's Game Lab, part of AU's new game design and persuasive play program jointly run by the College and the School of Communication. The American University Game Lab serves as a hub for experiential education, persuasive play research, and innovative production in the fields of games for change and rhetorical play. The Game Lab is working to develop a new generation of leaders in social impact gaming. The program offers a master's degree in game design, and its studio works with clients to produce socially responsible games.