Science
Women in Science Organization Launches, Welcomes All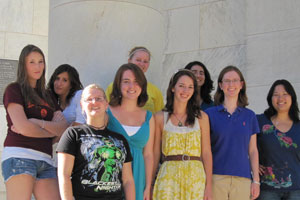 This semester not only welcomes new students and faculty to AU, but also new organizations within the College of Arts and Sciences like the first-ever Women in Science group, hosting its first event as a "Fall Social" on Friday, October 8, 2010 from 5 to 7 p.m. in the Butler Board Room. This social gathering, sponsored by the Dean's office, celebrates the first of several events planned throughout the year.
Not just an outlet for women, the organization welcomes all genders and concentrations from both students and faculty. "We want it to be anyone who has a genuine interest in science, from beyond CAS, but to all the schools," says Professor Teresa Larkin, one of the coadvisors of the Women in Science group.
The Women in Science group hopes to expand its membership and support, while also recognizing its current members and celebrating science. "We want to put science on peoples' radar screens. We have active research going on here," says Larkin.
The new group has been a special undertaking for Larkin and Professor Jessica Uscinski, both physics professors. As women in science, they note the importance of mentoring and networking for rising women in the field. "I think it would have been very helpful for me as an undergrad to have this sort of group that could provide additional mentors, as there are often very few for women in science," says Uscinski.
Members hope to utilize the organization as a forum to showcase student work and research, as well as build a community where they can encourage each other's careers and interests. With these goals in mind, "The bonding of everybody and getting recognized as women at AU in science" have been the most rewarding aspects of creating a new organization according to Copreseident Holly Ray.
Current members, like Media Relations Officer Shelby Kay-Fantozzi, are excited to pave the way for AU students interested in science with the new organization. "What's really unique to us this year is that we get to be here from the start. We get to set a tone for this and who we want to be in the future," she says.
Copresident Betsy White says that with the new group finally organized, she is most excited to integrate the city into her learning experience. "D.C. is a fountain of opportunity for science, I want to take advantage of that."
With the support of each other, and Larkin and Uscinski, the current Women in Science members look forward to making positive changes on campus, and meeting new members. Students interested in joining Women in Science should drop by this event, e-mail WIS@american.edu, or visit the Women in Science Facebook page for more information.