Science
Women in Science
Prominent roles for women scientists at AU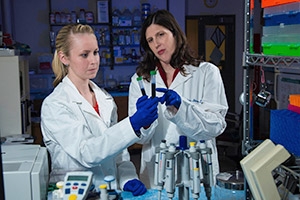 It is an exciting time to be a woman starting a career in science at American University. There are more faculty role models and mentors than ever before, more paths to a science degree, and vast career and academic possibilities after graduation.
Among the STEM (science, technology, engineering, and mathematics) majors at the College, 69 percent of undergraduates and 61 percent of graduate students are women— notably higher than the national percentages. This is because there is a sustained push at AU to get women into STEM — and keep them there.
"Our programs are growing, and the university's cutting- edge Don Myers Technology and Innovation Building will open to students in fall 2016," says Catherine Schaeff, associate professor in the biology department. "Outstanding faculty role models across the sciences are producing groundbreaking research, and mentors are playing a critical role in developing the next generation of women scientists."
Recruiting and Supporting Women
AU's science departments work hard to recruit women, says Teresa Larkin, associate professor of physics and director of the College's new dual- degree engineering program with Columbia University.
"Half of our physics department faculty are women, and nearly half of the students are too," she says. "In a small department like ours, we really get to know all our students and support them in every way."
Larkin's teaching assistant, Sarah Bieniek; BS biology, BA physics '15; says that the numerous role models and plentiful mentoring oppor- tunities at AU, both formal and informal, have played a critical role in her development as a scientist.
"I feel bonded to both biology and physics, and I have mentors in both departments," she says. "As a TA, I get an invaluable look at what it is like to be a professional in my field. I get to know the younger students, too, who come to me for academic help."
Students also find support in the College's active chapter of the Association for Women in Science (WIS), which advocates for women scientists of all ages.
"The Women in Science group is growing at AU, with strong student leadership," says assistant professor of physics Jessica Uscinski, who co-leads the group with Larkin. "WIS gives students opportunities to network, find mentors, meet successful alumni—and talk informally about academics, challenges, and goals."
Women on the Move
Science departments at the College are filled with female faculty who conduct award- winning research, often with the assistance of their students. The list begins with Katie DeCicco-Skinner, cancer biologist and associate professor of biology, whose skin cancer research is supported by more than $800,000 in grants from the National Institutes of Health.
DeCicco-Skinner says that women scientists in academia still face challenges. There are fewer female tenured professors, they are paid less than men, and they tend to do more service activities than men.
At the same time, she and the next generation of women scientists are bridging this gap: DeCicco-Skinner manages one of the largest labs in the biology department, and more than half of the graduate students working there are women.
DeCicco-Skinner understands firsthand the importance of role models and mentors. When she was an undergraduate majoring in biochemistry, every faculty member in her department was male. When she chose a graduate school, she made sure to choose one that offered her a strong female mentor.
Now, a decade later, DeCicco-Skinner is a mentor herself. "I am extremely invested in my students," she says. "It is important for me to have students leave my laboratory well trained and confident in their scientific prowess, while getting whatever guidance and support they need along the way. Additionally, I hope to serve as a role model to the young women in the laboratory to let them know that it is possible to be successful in a career without having to sacrifice the desire to have a family."
Her colleague Vikki Connaughton, an associate professor of biology, emphasizes that mentors do more than impart practical lab skills. "They teach students how to approach a research question, design experiments, analyze data, and communicate their data and conclusions," she says. "They also instill solid, positive research ethics, and, in some cases, introduce students to other scientists and researchers in the field."
Connaughton's research focuses on visual neuroscience—how the eye works. She and her students use zebrafish, whose visual system resembles that of humans, as a model organism.
She also opens her laboratory to students doing independent research. "I typically have several students working in the lab," she says. "They learn practical skills through their own experiments while also understanding how their project fits into the larger research focus."
Working in a faculty laboratory also builds a sense of community, says Connaughton, because research projects often are communal or inter- disciplinary. Students learn from each other, with the more senior students helping the newer ones. "This generates a strong sense of collaboration and camaraderie," she says.
Pushing Boundaries
Bei Xiao, assistant professor of computer science, says that one of the things that attracted her to AU was its openness to exploring interdisciplinary and cutting-edge research. "AU has encouraged me to push the boundaries in my field. I started my research in neuroscience, and now I focus on multisensory perception and perception- driven computer graphics."
Xiao says she sees more and more women in computer science—and more diversity in general. In her introductory class for majors and non-majors, she says, about 40 percent are women; in her advanced course, Introduction to Computer Vision, the percentage of women jumps to more than half.
"They are not all computer science majors," she says. "It is a place where psychology, applied math, physics, and graphic design majors come together to learn about how computer algorithms can be applied to a variety of domains."
Betty Malloy, associate professor of mathematics and statistics, says her discipline opens doors to a range of subjects. "So many fields need statistical help, and one of my great pleasures as a statistician is working with a lot of people."
Malloy is known for lending her statistical expertise to many arenas, from health in DC public schools to nicotine addiction to workplace injuries. She prepares her students to do the same.
"They conduct lab work to collect data, and then they interpret and analyze this data," she says. "As data analysts, they can do a wide variety of things after college: work for government organizations, nonprofits, large research consulting companies, or think tanks—or go on to graduate school."
She says women are doing so well at the College that gender is hardly an issue. "We have a vibrant community of women here in the sciences at American University. It's a critical mass—we have a lot going on."
Moving Forward
"When I talk to women majoring in the sciences here at AU, they are empowered and confident," says Nancy Zeller, coordinator of the College's science teaching labs. "When they go out into the real world, they know they have the training and skills to compete. They also know the importance of having strong women mentors—and they seek them out."
Senior Juana Cerna Sanchez, who is majoring in public health and minoring in physics and math, shares that view. "I have had the opportunity to be mentored by several amazing women professors at AU," she says. "They are all very successful and inspiring, and they serve as a constant reminder that I am capable of achieving my goals and aspirations in life."
While most faculty members at the College appreciate the rewards of mentoring, they are focused on making the sciences a place where gender does not matter. In some ways, they've already achieved this goal.

As DeCicco-Skinner says, "My students think it's laughable to think that women can't do what a man can do."