Arts
Women on the Verge Opening October 16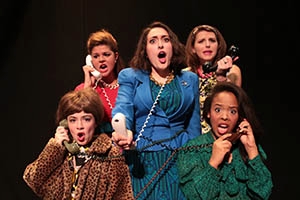 Writer, director, playwright, and assistant professor of performing arts Carl Menninger talks about directing the upcoming AU production of Women on the Verge of a Nervous Breakdown. 
A musical adaptation of Pedro Almodovar's beloved film by the same name, Women on the Verge of a Nervous Breakdown is a story about women and the men who pursue them . . . finding them, losing them, needing them, and rejecting them. 
The play runs October 16-25 at the Greenberg Theatre.
Why did you choose Women on the Verge of a Nervous Breakdown?
Our theatre season is a "Passport to the Arts." We are presenting plays and musicals that are translations of or were inspired by non-American writers. Women on the Verge of a Nervous Breakdown is an adaptation of Spanish filmmaker Pedro Almodovar's 1988 film of the same name. 
Tell us a little bit about the staging and production of this play.
The play takes place in numerous locations, there is a car chase scene through the streets of Madrid, a woman jumps off a balcony, a bed catches fire, a character makes a blender of gazpacho on stage. 
The original production tried to show the chaos and confusion of the plot by employing a complex set with projections, motorized vehicles, conveyor belts that transported actors and scenery across the stage, and numerous realistic sets. 
In our production, we hope to show the chaos and confusion that the characters feel it, but limit the action to a unit set (a single, stationary set) so as not to overwhelm the audience. The shifts in location and movement will be achieved through lighting and shifting furniture. 
Tell us a little bit about what is involved in producing a play?
The process begins with the directing presenting his vision/concept to the design team. With that information they create their designs. The actors are auditioned and the sets, sound and costumes are constructed during the rehearsal process. It all comes together when during technical rehearsals which usually begin the week before the show opens. That's it in a nutshell. 
What advice would you give students who want to pursue a career in theater?
I wrote a book titled Minding the Edge: Strategies for a Fulfilling, Successful Career as an Actor. The first critical step is to figure out what makes you fulfilled and determine your own definition of success. 
The other major factor is discipline. Actors who manage their careers like a business have a better chance of success than those who don't think and operate like a small business owner. 
What are the performance dates and ticket information?
Performance Dates:
October 16-18, 8 p.m.
October 24-25, 8 p.m.
October 18, 25, 2 p.m. 
Theatre: Harold and Sylvia Greenberg Theatre
4200 Wisconsin Avenue, NW
Tickets: For tickets and more information, call 202-885-ARTS or visit american.tix.com. Tickets are $15 regular admission and $10 for the AU community and seniors.