Literature
2014 Writer as Witness Colloquium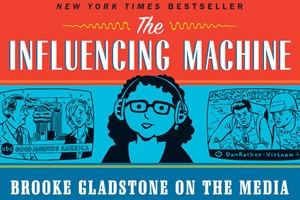 Brooke Gladstone, author of The Influencing Machine, will discuss her work with AU students on September 3 as part of the 17th annual Writer as Witness Colloquium in Bender Arena. 
Sponsored by the Department of Literature and the College Writing Program, this event gives students the opportunity to discuss a common text and meet with its author.  
Classmates will discuss The Influencing Machine and write about the book in College Writing courses. The College Writing Program and the Campus Store are sponsoring an essay contest to honor the best writing inspired by the community text. Essays must be submitted by Tuesday, November 11 and the top prize receives $200. 
About Brooke Gladstone's The Influencing Machine 
In The Influencing Machine, Gladstone's incisive analysis of the media—its history, its controversies, and its technological transformation—is presented largely through illustration by alternative cartoonist Josh Neufeld whose visual rhetoric conveys the complexities of Gladstone's critique. But if this is a sort of comic book, it's one with "zest and brains—and it just might help a reader understand the brave new world" (The New Yorker). Gladstone's research is comprehensive, but her analysis leaves room for readers to consider the nature of bias and power. Finally, The Influencing Machine invites us to reflect on our own responsibility to shape our world(s). 
Co-host of NPR's On the Media and senior editor of All Things Considered, Brooke Gladstone is also the recipient of two Peabody Awards, a National Press Club Award, and an Overseas Press Club Award. Among her other accomplishments, she was an NPR Moscow-based reporter, its first media reporter, and the senior editor of Weekend Edition with Scott Simon.  
Biographical information from www.onthemedia.org.