Arts
AU Students to Perform Spelling Bee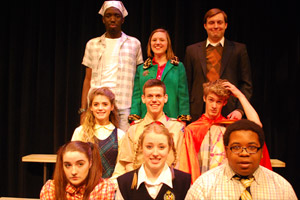 Within the last decade, America has become more and more entranced by watching children spell. In 2002 and 2006 respectively, Spellbound and Akeelah and the Bee, both movies about spelling bees, were released in theatres. ESPN's broadcast of the Scripps National Spelling Bee has topped four million viewers each year since 2006. The excitement of rooting for smart kids in a non-athletic competition has become almost normal. And now we have a chance to laugh about it too when American University's Department of Performing Arts presents the 25th Annual Putnam County Spelling Bee, running from March 29–31.
The play, which is often referred to as simply Spelling Bee, first opened on Broadway in 2005, and it has remained extremely popular ever since. Spelling Bee is about a group of six quirky, unique young spellers, ranging in ages from eight to fourteen, who are competing in a local spelling bee. "Obviously, serious, dramatic theatre is important and significant," says Karl Kippola, performing arts professor and director of Spelling Bee, "but the dual purposes of art are to educate and to entertain. It's okay to make people laugh; at times we desire that release. And this show allows us to laugh at ourselves, to lighten up, because we all get overly serious and put too much pressure on ourselves and others." 
Kippola emphasizes that while the characters are offbeat, they're still lovable. "You really get to know each one of the spellers who are up there and what it is that is driving them," he says. "You become invested in each one. But you probably end up siding with one person and rooting for them to win, probably like you would in a normal spelling bee."
In each performance, four audience volunteers serve as guest spellers who participate in the competition, which brings about its own level of fun. Kippola is attempting to wrangle AU celebrities, deans, directors, professors, and even the president and provost to participate as spellers. "The audience members are up there as children, having to spell words," says Kippola. "Hopefully, they aren't too good, because they all eventually have to be eliminated."
Because of the audience volunteers, Spelling Bee provides an educational opportunity for the student actors involved that they rarely get with other performances at AU. "They will learn from the improvisational nature of the show, because you have four people up on stage actually participating in the show," says Kippola. "They don't know the script, and the actors don't know what the audience members will do or say."
Having audience members in the musical breaks the fourth wall, that imaginary barrier between the audience and the show, in a way rarely done before. It allows audience members, even those who are not on stage, to feel like they are participants. "Having an audience member up there allows others to vicariously participate in the action, and I think that invests the audience in the show," says Kippola. "Also, because the spellers have their imaginary families in the audience, they are talking to the audience directly, so the relationship between the audience and the people on stage is a lot closer than it is in a lot of other theatre productions."
To help the students prepare for their roles, Kippola sent the cast a list of movies that featured child actors so that they could see the personalities and physical movements that made each one unique. "I thought it was important to watch real children rather than watching other adults playing children so the students could get a feel for how they view the world, how they interact with each other, with adults, and how they act on their own," he says. 
The 25th Annual Putnam County Spelling Bee will be performed Thursday, March 29 through Saturday, March 31, at 8 p.m., and on Saturday, March 31, at 2 p.m. at the Harold and Sylvia Greenberg Theatre.  Tickets are $15 for regular admission and $10 for AU community and seniors. For more information, visit the AU Arts website.