Arts and Culture
Students Perform Moliere's Comedy Tartuffe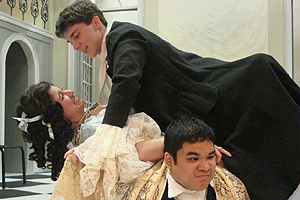 Molière's 1664 comedy Tartuffe will be performed by students in American University's Department of Performing Arts at 8 p.m., Thursday, April 2, through Saturday, April 4, at the Harold and Sylvia Greenberg Theatre.  A matinee performance will be held at 2 p.m., Saturday, April 4.

Tickets are $15 general admission; $10 AU community and senior citizens; and $5 for students.

Set in seventeenth-century Paris, the play's plot revolves around Orgon, a wealthy family man, opening his home to Tartuffe, a seemingly virtuous and angelic stranger.  Orgon offers Tartuffe his daughter, Mariane, and eventually makes Tartuffe his sole heir. Despite his incredible windfall, Tartuffe wants more. Only Orgon's family and friends see Tartuffe for the con man he is.  

"People tell us what we want to hear, and we yearn to believe," said director Karl Kippola of the plot. "In our own troubled times, our heroes continue to fail us, whether they be religious figures, sports stars, celebrities, politicians, or even those a bit closer to home. Like lost children, our hearts trusting, we seek guidance and reassurance only to be too often disappointed. Disappointment is easier to bear than hopelessness."

The role of Orgon will be performed by AU junior Kyle Encinas from Sayreville, NJ.  Junior Nick Jonczak from Levittown, Pa., will play the title role Tartuffe, and Mariane will be performed by sophomore Laura Aristivulous from New York City.