First Person
Performing Renowned Choreography at American Dance Festival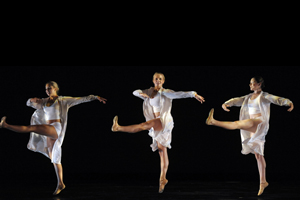 Each year at the American Dance Festival (ADF), select students have the opportunity to perform on the main stage in the Past/Forward concert in one of three works. As a student, it's a huge honor to perform a renowned choreographer's work on stage before a paying audience as part of ADF's season, but you have to make it through the rigorous audition and rehearsal process first.


Auditions

I was already sweaty and tired as I walked into the last audition. The entire day had been filled with auditioning for two Past/Forward concert pieces choreographed by Martha Clarke and Bulareyaung Pagarlava. The final audition was my last chance to make it into the performance.

Two dancers were setting a work by Twyla Tharp called "Sweet Fields," which she choreographed in 1996. I had known about this opportunity for several months, but I tried not to get my hopes up. When you're auditioning next to three hundred talented dancers, it's best not to expect too much. They lined us up in number order, and then taught us a short phrase of ballet movement. After we had performed the combination in small groups, they taught us a short phrase from "Sweet Fields." Although the steps weren't very difficult, the footwork was very fast. After we finished, we all went home to wait until the next morning for the callback lists.

I made it through to the second round, which made me even more nervous and excited. The callback started with the phrase we had learned the day before, and then they made cuts. We were down to forty girls. My heart beat wildly as they added more onto the phrase. They made a second cut, bringing us down to about twenty girls, with only six female spots in the piece. I barely slept the next couple of nights waiting for the cast list to go up. When the results finally went up, I was thrilled and grateful to see my number on the list!


Rehearsals

We hit the ground running in rehearsals, learning the twenty-minute piece in about a week and a half. ADF is only six weeks long, so we had just five weeks to learn and perfect the piece before opening night. Each day we rehearsed for more than three hours. Our repetiteurs, Rika Okamota and Alex Brady, have both danced with Tharp for a long time and understand her style. Though enjoyable to work with, they were strict about the choreography, style, and technique. "Sweet Fields" is a piece about Shakers, a religious community known for gender equality and sexual abstinence (among other things). Tharp's choreography reflects some of these views. The piece is split into ten movements, and the first few movements are gender segregated. Though the men and women come together in later movements, they rarely make physical contact except for one short partnering section. Throughout the piece, the men and women dance equally and build a sense of community.


Performance

By opening night, we were ready. We had rehearsed the choreography over and over, both in technique class and in rehearsal. We had begun to feel like a family after spending so much time together. Although we were all nervous, opening night felt like heaven. Our fellow students filled the audience to support us. The lights shone brightly, and the angelic sounds of the Shaker hymns echoed throughout the theater. As we danced, our long, white capes swished around us. There was a calm sense of exhilaration among us, as though our hearts were waiting calmly to burst from our chests. As we took our bows in front of cheering friends and family, I knew once again that I was born to dance.

Through this incredible experience, I was able to perform the work of a world-renowned choreographer. I met a group of young, talented dancers from across the world that I will surely encounter again. I also worked with two seasoned dancers, Okamota and Brady, who were able to give me valuable feedback and advice. In addition, I learned the value of "admiring and inspiring," instead of "comparing and despairing." When I'm dancing alongside such talented individuals, it's difficult not to compare myself to them. Through the process of setting this work, I began to find inspiration in my peers and to learn from their strengths and successes. Finally, I learned how to release within control. As someone working with a lot of ballet technique, it's difficult to let go and relax. But Tharp's work required me to use my strength and alignment, while finding freedom in the upper body. I learned to embrace letting go because I knew I had the strength to pull myself back.