Arts
Connecting the Arts and Sciences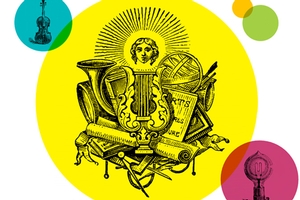 What do the arts have to do with the sciences? More than you think. 
American University's 2013–2014 arts season is filled with concerts, theatre performances, exhibitions, and lectures that celebrate the multifaceted intersections between the arts and sciences. 
Theatre program faculty initially brought to life the idea of the "Science and the Arts" season. Department of Performing Arts (DPA) chair Fernando Benadon liked it so much, he decided to expand the theme beyond theatre offerings. 
"One of the things that consistently comes up in university theatre programs is, how do we build connections to other university programs," says DPA professorial lecturer Sybil Williams, who worked with the theatre faculty to develop the theme. "We thought, 'Why don't we reach out to our opposite?' People consider science and art [to be] on two different sides of the spectrum, and I believe the arts' job is to build bridges. The theme allows us to think about ideas and subjects in ways that we've never thought about them before. If we can do that with the sciences, then we've accomplished something major—not just for art students but for science students and the university community as well." 
DPA faculty members embraced the idea and saw different opportunities through which they could incorporate the sciences into programming. 
"I think anyone in music immediately starts thinking about the limited repertoire that is specifically science centered," says Daniel Abraham, associate professor in the Department of Performing Arts and director of choral activities. "I actually had to take a step back and think about some interesting parallels between music as an extension of the science of sound and where the two fields have intersected, maybe in more of a historic way." 
Williams and the theatre faculty had similar difficulties. What they found was that there are not a lot of plays that deal with science-related subjects—and those that do employ small casts of two or three people. 
While not all of this season's offerings are science based, many incorporate science in unique and interesting ways. The American University Chamber Singers, directed by Abraham, will present a choral and multimedia program exploring the intersection of great scientific discoveries and their musical counterparts across the last millennia.

"There's certainly the simple parallel of when great discoveries were made and what other things were happening in the arts at that time, because they're all interconnected," says Abraham. "Either the philosophical thought can lean towards new scientific discovery or lean towards art, which is just an interpretation of society at any given time. 
So with that in mind, I thought we could very easily pair up great discoveries, great figures, great moments in science with the art of the time and place. And then, of course, there are pieces that have been proposed that reflect ideas of different times even though they may be contemporary pieces." 
All of this season's theatre department offerings are science related. Moreover, each show will be coupled with a pre- or post-performance discussion with faculty in the arts and sciences. "Steamystery is a children's play, so we're going to two elementary schools and exploring the importance of science, technology, engineering, and math," says Williams, running through the season. 
"I'm excited about Rocky Horror because I really want to talk about transgender issues. Our third play, Marat/Sade, is about mental illness. It's a classical-style piece, so we're looking at how mental illness is portrayed, how we understand it now as opposed to in the nineteenth century, and we're planning a series of seminars about the evolution of the care of the mentally ill." 
Looking ahead, the spring season opens with a production of Rent. Its conversation, says Williams, is around epidemiology and AIDS and how we need to look at the evolution of an epidemic and its treatment.

And then there's The Alchemist. "We're going to do some fun stuff with that, she says. "There's a whole host of seventeenth-century ideas about alchemy and chemistry." 
The last play is Inherit the Wind, essentially an argument about science versus creationism. "So we use that to end the season," says Williams. "Fun stuff at the beginning and serious debate at the end so that you get the full arc of how we're moving scientifically." 
Many other programs in the upcoming season relate to the theme. Some exhibitions at the American University Museum will focus on sustainability, for example. A music concert featuring new works will explore music-science connections. Another program will present the neurophysiological impact of music, and a multimedia installation will feature percussion with live interactive electronics. 
"I'm looking forward to seeing these events generate new ideas about the role of the performing arts in radically different contexts," says Benadon.  
His main goal for the season-long initiative is to illustrate some of the ways in which the arts and the sciences can come together and to foster more collaboration among faculty and students across disciplines. 
Williams's biggest hope for the season: that it will change how people perceive theatre, inspire them to look at science and the world around them differently, and give them a new appreciation for the arts.