Arts
Art Auction in the AU Museum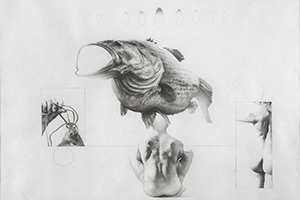 When H. Marc Moyens founded Gallery Marc in 1969, he quickly became a central figure in the Washington, DC, arts world. Gallery Marc was part of the District's first "gallery row" on P Street Northwest, establishing Moyens as a serious arts collector and one of the first major gallery owners in the city. He later opened Gallery K with his partner Komei Wachi in 1975, which bucked current trends by focusing on photorealism and surrealism at a time when the Washington Color School was favored. Upon his death in April 2003, Moyens' collection contained nearly 2,500 pieces, encompassing art from New York, California, and all around the world.
Paul Richard, in his Washington Post review of the H. Marc Moyens Collection at the Corcoran Gallery of Art in 1969, hit the nail on the head when he described the works as "realistic spooky things that have the originality of nightmares." Richard went on to note that "Moyens' taste is at its best when it is at its weirdest." 
This year, American University's Fall for the Arts auction will feature 34 items from Moyens' estate, featuring works by artists James Bumgardner, Alan Stone, Maureen McCabe, and Carlos Gomez Bal, among many others. Auction works include paintings, sculptures, and mixed media pieces from the mid to late 21st century. 
The auction will take place in the AU Museum on Saturday, September 20 at 7:30 p.m., with all proceeds benefiting the arts at AU. 
The auction marks the end of a jam-packed afternoon of arts exploration at the Katzen Arts Center. An annual AU event, Fall for the Arts features arts courses and workshops, offering sessions in Drawing in the Italian Renaissance, Fundamentals of Color, and Behind the Scenes of the Auction, among others. The event is open to the public. 
Though arts enthusiasts can wait to place their bids at the live auction on September 20, they can also place bids early at the AU Museum in the Katzen Arts Center. Works from Moyens' collection will be on view and available for pre-auction bidding from September 6 through September 20 at the AU Museum. Bidders may also e-mail their offer to museum@american.edu. 
In order to place a bid, all participants must register for Fall for the Arts. Once registered, bidders may participate in the silent auction before the event, or place their bids at the live auction on September 20. 
Whether you are an avid art collector or someone who simply appreciates a beautiful painting or sculpture, this year's arts auction is not to be missed. Be sure to mark September 20 on your calendar as a day of experiencing the arts, and for the life and legacy of Marc Moyens. 
For more information about the auction and about Fall for the Arts, please visit the Fall for the Arts website.