Arts and Culture
Dance Concert an Open Source of Creativity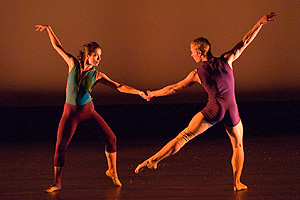 Students and guest artists will share the stage during the spring dance concert Open Source at 8 p.m Friday, April 17, and Saturday, April 18, in the Harold and Sylvia Greenberg Theatre.
Tickets are $15 for the general public, $10 for the AU community, and $5 for students. A reception will be held after Friday's concert.
Open Source will showcase new work in a variety of genres and styles reflective of the new face of the dance program and the diversity of dance within the university's performing arts community.
Artistic director Melanie George, an alumna of American University's dance program, provides an evening of exciting and thought-provoking dance theatre along with guest performers from ClancyWorks Dance Company.
Choreographers include George,Vladimir Angelov, Lora Ruttan, Adrienne Clancy, Jackie Atrio, and Carolyn Kamrath. 
"Dance is a dynamic and visual art meant for public viewing," said George. "As you observe the performance, consider the interplay between movement, meaning, light, and sound. By giving your attention, sharing your observations, and, we hope, bestowing your applause, you are an invaluable contributor to the concert."