Arts
Dance Choreolab's Vital Role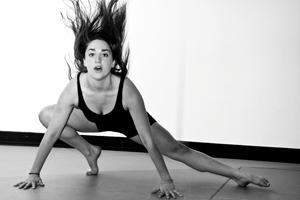 In today's fast-paced society where people churn out new ideas every second, it can be difficult to slow down and really fine-tune a creative process. "Increasingly in the performing arts, creative development time is rare," said Christopher K. Morgan, artist in residence at American University and artistic director of Christopher K. Morgan & Artists/A Contemporary Dance Company. Morgan also is serving his second year as artistic director for Choreolab, an AU dance program that provides a full view of the creative process.
Choreolab is a noncredit workshop for dance students interested in exploring the choreographic process with facilitated guidance and feedback. Following a selection process early in the fall semester, students have eight weeks to rehearse, rework, and refine their artistic visions.
This year's Choreolab showing, Next Steps, takes place Wednesday, November 7, at 8 p.m. in the Harold and Sylvia Greenberg Theatre.
During the rehearsal process, the choreographers work closely with faculty creative advisors including Morgan, dance program director Melanie George, and adjunct dance professor Sandra Atkinson. "If we can create a truly educational experience where they learn the tools to analyze and assess their own work while it's being created, they'll be more likely to succeed beyond this supported, facilitated process," Morgan said.
This year's Choreolab participants are Gracie Corapi '15, SOC; Sareen Hairabedian '13, SOC; Suzy Mirvis '13, CAS; and Ellie van Bever '13, SPA. The students represent a wide range of dance and artistic expression, including elements of jazz style, modern dance, and improvisation, stemming from a variety of inspirations like Hairabedian's time abroad in Europe and Jordan or Mirvis' passion for the style of the 1920s.
Choreolab helps to prepare students for the world of dance after college by providing them with an array of tools for artistic development and leadership. "I have always loved the choreographic approach to dance," said Mirvis. "Choreolab provides a safe and productive atmosphere with a very professional feel. It gives the students a realistic example of what the roles and responsibilities of a choreographer are both inside and outside of a university setting."
After the performance, a panel of adjudicators made up of local dance professionals dialog with the students about their work. While this is an invaluable experience for the choreographers in developing their work, it is also a rare glimpse into the creative process for viewers. "It gives the audience an insight into what people are thinking about when they are creating," Morgan said.
This year's adjudicators are Dance Exchange resident artist Sarah Levitt, George Washington University dance professor Kate Mattingly, and chief artistic director of Boris Willis Moves, Boris Willis.
Sixteen American University students, including the choreographers, will dance in the Choreolab showing. Choreographers do not appear in their own pieces so they can observe their work and gain experience teaching and leading their peers.
"What's truly excellent about Choreolab is realizing that the reward in choreography lies in the process, not in the piece you create," van Bever said. "Most of your time is spent in the studio with your fellow dancers, and in the end, that exploration is what's important."