Arts
New Social Media Experiment by AU Curating Students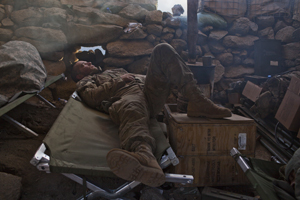 It seems that the times of turning off cell phones and putting away cameras when entering a museum are a thing of the past. At least, that's what the students in AU's graduate Curatorial Practice course are saying. Their group show, Like. Comment. Share., is an experiment in the relationship between art and social media. The show will feature 18 artists from around the world chosen by the 18 students, and it will invite viewers to take pictures, share comments, and follow the artists online. Violet Morris, an arts management graduate student and course participant, described how the exhibit will look and feel.


Tell me about the show.
The students are a mix of arts management students, art history students, and recent graduates. We were charged to go out and find artists that we really connected with and arrange them into some sort of group concept while still having thee individual artist standing for something. That way we can learn the process of curating through that artist.
We realized the discussions about our chosen artists were revolving around social media, not only in terms of how we wanted to present the show and have people engage with it, but also in the way we discovered our artists and in the way a lot of us interact with them. Dave Simmons, a student curator, met his artist through Facebook and stayed in touch with him that way. My artist also shares his work on Facebook and Twitter. It's interesting, because the artists are taking it upon themselves to build a community online, kind of curating their own work online. We just take it into a formal space in the museum.

How is this show different?
During the one hour preview, student curators will walk visitors through the exhibition, taking turns speaking about their artist's work. This is a meaningful exercise for us because as a curator, making the case for the art is an important step in the process.
The opening which follows is an experiment for us as well, because we will be able to observe how attendees are utilizing social media to engage with the work. Artwork labels will include discussion hash tags, our artists' Twitter handles, and QR codes that people can scan to launch the artist's webpage. Attendees may use smartphones or utilize the computer stations set up in the exhibit to take like, comment, and share their reactions to the art works.
In discovering more information about the work, connecting with the artists, and participating in discussion with other attendees, social media opens up a new dimension of engagement. We are expecting the social media platforms to help drive the momentum of the show throughout that evening and the course of the exhibit.


Are the QR codes being used instead of or in tandem with conventional labels?
We are doing the standard label: artist name, title of the work, and the important details. But in place of a description, we will have a QR code. That's where we have found again that this 21st century platform helps us, because it enables us to allow the viewer to go as far as they want into a particular artist's work or background, even to the point that they are tweeting with that artist, "pinning" an image of the work on Pinterest, or posting feedback on their Facebook page. So while we don't have elaborate materials to provide context, the viewers have the freedom to explore on their own.


A few students weigh in on their artist choice.
One artist featured is Colombian artist and Corcoran College of Art and Design teacher Juana Medina. "Medina's refined images in the short-animated documentary, Learning to Appreciate Moldy Bread, capture the harshness of kidnapping in a simple and tender way, engaging the viewer in a conversation about appreciating what has been given to us in light of what has been taken away from others," says Monica Medina, her student curator. "Her witty drawing of 'Hectic Planet' subtly depicts the world ready to explode and interactively invites us to reconnect with the earth by consciously choosing to modify our behaviors in simple ways to help protect the habitat that sustains us. Both of the works remind us of the relevance of the banality in our lives and enable us to judge whether we are simply bystanders or whether we are in full relationship with everything and everyone that encompasses life, without taking anything for granted."
Minimalist graphic artist Michael Owen was chosen by student David Simmons. Owen is the creator and lead artist of the Baltimore Love Project, a project of 20 murals spread throughout Baltimore. "Michael Owen uses bold, graphic imagery to pull the viewer into the piece, to divulge softer and intimate messages and metaphors," says Simmons. "While his work could be classified as figurative, its subtle compositional details and deep messages ring true of a more conceptual genre. Typically, less is more in Michael's work as he employs minimalism to access a wider audience, allowing more room for each viewer to insert their own story."

Violet Morris is the curator for independent photojournalist John Wendle. Wendle currently writes for Time and has covered events in Afghanistan, Georgia, and other overseas conflicts. "The war reporter fixes a lens on the human toll of the most complex and dangerous situations in our world, motivated to unveil a truth that stirs the rest of us into understanding—and now, with the scope and instantaneousness of the Internet, a truth that sparks a sense of connection," says Morris. "His photographs create an access point for those of us far removed from conflict and chaos. His use of social media as a platform for sharing the realities of war and life in Afghanistan reflects a powerful shift in our approaches to interacting with each other: in recognizing another human being's reality as something tangible."
The other featured artists include Michael Christopher Brown, DECOY, Todd Gardner, Seth Goodman, Nadya Hadun, Aaron Johnson, Joseph Lappie, Liz Lescault, Laurel Lukaszewski, Conor McGrann, Ethan Murrow, Daryl Peveto, Luke Radl, Zac Willis, and Yan Yeresko.
Like. Comment. Share. will be open in the American University Museum from April 28 through May 20. For more information about this and all exhibitions on display, visit the museum's website.