Arts
Obama Campaign App Nets Award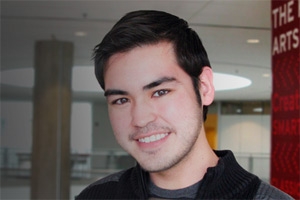 Tate Strickland has truly made his mark on the world. The 2010 graphic design graduate and Thirteen23, the company he worked for, were recently awarded the Interaction Design Association's (IxDA) 2013 Interaction Award for their work on the Obama for America
Campaign mobile app.
IxDA, founded in 2003, works to improve the human condition by advancing the discipline of interaction design. It is involved in initiatives relating to education and mentoring, public relations, outreach, and internationalization.
"IxDA is an international organization for user experience design, so the visual design of digital experiences," says Strickland. "The Connecting category [in which he won] is about bringing people together and getting them to talk to each other in some fashion."
While at AU, Strickland concentrated in interactive design, which includes web and mobile design. After graduation, he moved to Austin, Texas, and joined Thirteen23, an interactive design studio specializing in digital strategy, user interface design, and software development.
The company combines breakthrough design with emerging technology to make innovative brand experiences for clients around the world.
Thirteen23 had just decided to expand and hired Strickland as its first full-time designer.
"It was a really small design development team," Strickland explains. "I was actually their sixth employee, and their first full-time designer. What is interesting about the company is that instead of having designers work on their own and create the visual design and architecture of an app or website and then toss it to developers who do their thing, the designers and developers were working in close coordination with one another at all times, which turned out to be a really effective model. I worked really well there because at AU I had been a graphic design major, but I had also done some coding as well. So I knew enough to understand what the developers were talking about and to work with them effectively."
During his time at Thirteen23, Strickland cultivated an expertise in mobile design, mostly for the iPhone.
Strickland and Thirteen23 became involved with the Obama for America Campaign through their work in 2011 with Livestrong. Strickland worked with a small team on creating a basic mobile app for volunteers to collect donations by using Square, the mobile credit card payment solution that connects with mobile devices.
"So we were in contact with Square throughout this process," he continues, "and throughout a series of connections, Square referred us to Harper Reed, the chief technology officer of Obama for America in Chicago. They approached us and asked us to make a donations app that was similar to the one for Livestrong."
Over the course of several months, the project ballooned. "They wanted their entire mobile strategy designed. I was assigned as the designer on the project. It was my job to build all of the architecture: the screens, the wire frames, and also the visual design for the iPhone app. I was a part of the team of four that went to Chicago and met with the campaign."
IxDA presented Strickland and Thirteen23 the award for their work on January 29. However, Strickland had already left the company. Returning as a professor in the AU Graphic Design Program at the beginning of the 2012–2013 academic year, he now teaches Visual
Communication Design, which is an introduction to image-making principles and concept development, and Digital and Emerging Media Design, a course focused on introductory web skills and design.
But Strickland appreciates his experience and the recognition he received. "It's a nice footnote on what was a really amazing experience," he reflects. "I worked with great people on this
project at Thirteen23. The entire experience of working with these people on a project that we all really believed in was amazing. It was a lot of work, but it was very rewarding. The project itself was a reward, but having it recognized was exciting."