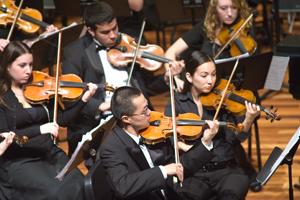 Welcome to the American University Symphony Orchestra! Conducted by Yaniv Dinur, the AU Symphony Orchestra has more than sixty accomplished members from the entire AU community: undergraduate and graduate music majors and non-music majors from every college at AU, music and non-music faculty and staff, and members of the Washington, DC, community. AU Symphony Orchestra represents the Music Program and the Department of Performing Arts, and is a major artistic organization of, and ambassador for, American University.
The beautiful Abramson Family Recital Hall in AU's Katzen Arts Center is home to AU Symphony Orchestra. The orchestra rehearses onstage in its Recital Hall on Monday and Wednesday evenings, 8:15–10:15 p.m. Periodically, the ensemble is also lead in special sectional rehearsals by members of AU's stellar Instrumental Music Faculty, with whom all orchestral students — music majors and non-majors alike — have the opportunity to study.
AU Symphony Orchestra plays at least three major concert programs per season, each in repeat performances. The orchestra's repertoire consists of the major masterworks from the Baroque through the Twentieth Century. An all-Beethoven program in 2004 launched AU Symphony Orchestra's Beethoven Cycle, a project of performing all of the composer's works for orchestra. Recent concert programs have included Beethoven's Symphonies 1, 3, and 6, Consecration of the House Overture and Leonore Overture No. 3, as well as Mendelssohn's Hebrides and Calm Sea and Prosperous Voyage overtures.
Each year, AU Symphony Orchestra hosts a major event on campus, the Concerto and Aria Competition, in which undergraduate and graduate student instrumentalists and singers compete for the opportunity to perform in concert with the orchestra. First, second and third place winners from a field of more than a dozen competitors are selected by a distinguished panel of judges from the Department of Performing Art's music faculty. Recent performances by winners of the competition have included the Mendelssohn, Bruch and Sibelius violin concertos, and Beethoven's Triple Concerto for violin, cello, piano and orchestra.

AU Symphony Orchestra frequently collaborates with the American University Choral Ensembles in performances of major works for chorus, vocal soloists, and orchestra. Recent combined programs have included Haydn's The Creation and Mendelssohn's Symphony No. 2 ("Lobgesang"). AU Symphony Orchestra also serves as a lab orchestra for conducting students in the Department of Performing Arts.
Auditions for AU Symphony Orchestra are held the first week of each semester for new players. Special, late auditions may also be arranged. Members of the orchestra also have the opportunity to audition each semester for promotion within the organization. For more information about auditions or AU Symphony Orchestra, please contact the orchestra manager at orchestra@american.edu, or Conductor and Director of Orchestral Activities Yaniv Dinur at dinur@american.edu or 202-885-3477.