Internships
Dean's Interns Share Achievements and Tips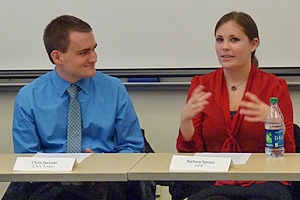 The highly competitive Dean's Internship opportunities available to School of Communication students were showcased from the perspective of current and past interns at a recent panel. In his opening remarks, SOC Dean Jeff Rutenbeck noted that he "would have killed to have this same opportunity when [he] was in college."
The event served to honor the current Dean's Interns, who were presented with certificates during the celebration, as well as to provide information about the program to students interested in applying for spring semester opportunities. SOC Strategic Program and Events Coordinator, Kim Husted, moderated the panel of three SOC current and former Dean's Interns and Brent Jones, Director of Standards and Staffing Administration for USA Today, who shared an employer's perspective and expectations with the group.
The student interns on the panel expressed exuberance about their experiences with the Dean's Internships. Chris Jasinski, former USA Today Social Media intern, noted, "the Dean's internship was by far the best opportunity, internship, and experience I've ever had."
The panel answered questions ranging from their biggest mistakes to greatest accomplishments while on the job. General consensus revolved around pride and enthusiasm for the work done and skills acquired along with eagerness for future prospects.
The Dean's Internships include positions with well-known brands and highly regarded organizations within the communication field, including The Washington Post, National Geographic, the Newseum, National Public Radio, Living Social, Current, and USA Today. The internships allow SOC students to gain experience, network, and build the foundation for future careers. Sharon Metcalf, Director of Strategic Partnerships for SOC, noted that some Dean's Interns are able to turn the internships into job offers.
SOC gives students a distinct advantage over many peer institutions due to the myriad experiential learning opportunities that are offered to students through its courses and special programs like Dean's Internships.
Jones added that, from USA Today's perspective, working with the Dean's Internship program has been such a positive and beneficial process that they keep seeking more students and look forward to expanding the partnership.
SOC plans on hosting another panel in the spring semester for summer and fall opportunities after the high success and turnout of this event.