On Campus
Science Spooktacular Is Frightfully Educational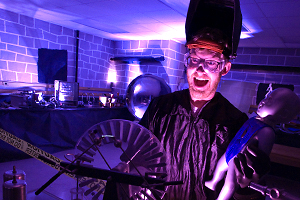 Igor waits, mad as ever, in a lab filled with the snapping burst of flashing blue electricity. In the Chamber of Torture, innocents (Gummy Bears and Peeps) will be dissolved and deformed with the help of chemical experimentation. In the Pre-Med room, students relive the nineteenth century, when medical schools stocked their dissection labs with the assistance of grave robbers.
Beginning this Friday, October 28, area high school students and neighbors will experience the creepier side of science at AU's Science Spooktacular — a haunted house aimed to entertain and educate.
The basement of the soon-to-be renovated and expanded McKinley Building has been transformed by teams of science faculty, staff, and students. In rooms — which up until recently held AU's physics, computer science, and audio technology departments — a labor of love and fright has meant installation of black lights, papering of walls, and the gathering of skeletons for comparative anatomy.
The rooms themselves provide eerie applications of all the sciences. In sussing through clues at the alien crash site, students will make observations in three different wavelengths and use a handheld infrared camera rigged to a video projector. The Dead Zone is a study of the gulf oil spill. And, in the Lab of the Living Dead, there is the opportunity to graphically track sightings and attacks by the undead. (Be forewarned, there is a documented rise in vampirism in D.C., with banshees circling Virginia, and zombies dominating nearby Maryland.)
"We are excited to be bringing the fun side of science to D.C. high school students, but also to our own campus and neighborhood," said physics professor Nathan Harshman, who coordinated the event. "Science outreach is part of what science must do to contribute to civil discussion of the issues that shape our future, like global warming, energy consumption, medicine and public health, information technology, and so many more. And science outreach is one way we hope to recruit and retain future scientists at AU."
What began with planning and funding from CAS's science department has become a campuswide effort. AU Admissions is offering visiting students goodie bags filled with information about the university and, of course, candy. The Office of Community and Government Relations will provide light refreshments. SOC is sponsoring a spooky media station. Student Government is offering support for the event and Health Promotion even pitched in by donating three sinister, broken, resuscitation babies and several heads.
On both Friday, October 28 and Monday, October 31, AU's science department will host students from schools including Ballou Senior High School; the Lab School; McKinley Technology High School; and Washington Math, Science and Technology Public Charter School. The rooms of the haunted house will serve as learning stations as student groups spend 90 minutes winding through spine-chilling (and light-hearted) demonstrations led by the science department's finest.
Friday, October 28, from 6 to 9 p.m., Science Spooktacular will hold a FREE open house for neighborhood secondary students and their families (no young kids). Head to McKinley's main entrance and listen for the macabre howls of science in action.