Alumni
Five Reasons to Nominate Outstanding Grads for the 2014 Alumni Awards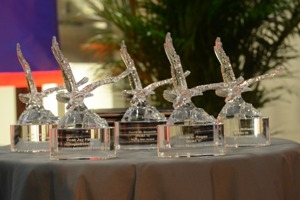 American University alumni are changing their communities, their professional fields, and the world in a million different ways. Chances are, that as an alumnus/a, you know someone who is one of these movers and shakers. Here are five reasons to nominate that someone for an alumni award by Friday, May 9, 2014.
1) Be part of history. The American University Alumni Awards, the highest honors awarded by the Alumni Association, have been highlighting exceptional alumni for more than 60 years. New recipients join the ranks of diplomats, journalists, educators, and community leaders who have made a lasting impact on society and on AU through outstanding professional, philanthropic, or volunteer accomplishments.
2) There is more than one award. The longstanding Alumni Achievement Award recognizes alumni who have distinguished themselves through their professional accomplishments, while the Alumni Recognition Award is given to alumni who inspire the world around them through service to the community or a philanthropic mission. For alumni who have distinguished themselves through outstanding service to the university and/or the Alumni Association, there is the Alumni Eagle Award. And last, but not least, the Rising Star Award recognizes young alumni (those who received their undergraduate degree within the last 10 years) who are already making significant contributions to greater society through professional or philanthropic work.
3) Celebrate with AU. Alumni award winners are celebrated during All-American Weekend at the Annual Alumni Awards Dinner.
4) Nominating is easy. The entire nomination process is online and easily accessible from the Alumni Association website. Get started now.
5) Pass it on. Nominees for alumni awards have touched lives and distinguished themselves in meaningful ways. Why not take this opportunity to celebrate their hard work? Take the time to nominate a deserving friend, colleague, mentor, or mentee. You know he or she is outstanding, isn't it time the AU communities does too?
To nominate an outstanding AU graduate for an alumni award, fill out our online form and submit a statement (between one and three pages) establishing the candidate's qualifications with clear and concise detail as to why he or she should be selected for the award, and include up to three additional letters of recommendation.