Science
The Psychobiology of Healing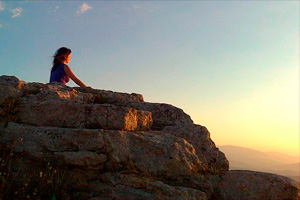 This fall, a new graduate program will help students explore the connections between body and mind in healing responses.
The Department of Psychology, in conjunction with the School of Education, Teaching, and Health (SETH), will offer a graduate certificate in the Psychobiology of Healing. This program will teach students the history and applications of healing methodologies such as meditation, behavioral therapy, nutritional monitoring, and alternative medicine while emphasizing the importance of scientifically evaluating these practices.
"This type of medicine is now really being presented as something of which we need to evaluate the effectiveness," says Tony Riley, professor and chair of the psychology department. "A lot of people have issues with alternative medicinal methods as therapeutic intervention because they don't know empirically if they work or not. This program would make people aware of the scientific issues involved in studying these forms of therapy."
"With the accumulation of research on lifestyle and other integrative approaches to well-being, some data is accumulating on which approaches are effective and which are not. We are also beginning to understand the mechanism of action of some of these approaches and learning much about the neuro - immune- endocrine role in healing." adds Deborah Norris, psychology professor and program director. She cites the placebo effect—the tendency for clinical study control group members' conditions to improve without medicinal therapy at an average rate of 65%—as just one example of the mind-body connection.
"Sometimes the placebo effect is the most powerful part of the treatment," she says. "These findings lead us to ask just what the placebo effect is, and how we can tap into it or enhance it for healing purposes."
The program will require 16 credit hours, including three required graduate-level psychology courses (one of which is a directed research course or internship), one required health and fitness course administered by SETH, and an elective course chosen from one of the two departments.