Science
Understanding the Brain, Understanding its Challenges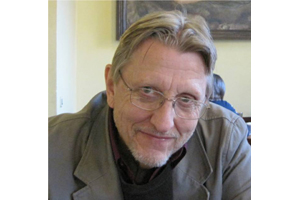 Terry Davidson has spent a career striving to understand the brain, its processes, and the behavioral and psychological disorders that plague people around the world. The Purdue University professor couldn't be more thrilled to join AU's faculty this fall as Director of the Center for Behavioral Neuroscience.
"I'm very pleased that AU has given me the opportunity to help build a center for research and training in the field that has been the life-long focus of my professional career," says Davidson. "The administration and faculty are very forward-looking and supportive of further developing the research and science education missions of the university."
Davidson's passion for understanding behavioral neuroscience comes from years of practice and investigation. As an undergraduate, Davidson volunteered at a school for emotionally-disturbed children and subsequently at a juvenile detention center. He encountered young people dealing with a range of behavioral problems that they could not control and which were having very negative effects on their lives. "I decided back then that the best way I could help people with these and other harmful behavioral and psychological dysfunctions was to identify and study the complex brain substrates and processes that underlie those problems," says Davidson. "In various ways, I have spent my research career trying to achieve this goal."
Davidson specializes in the neural and associative bases of learning and memory, as well as the integration of learning, memory, and physiological processes in the control of food intake and body weight. His Purdue experience leading large, externally-funded multi-investigator research programs dedicated to addressing problems in the area of neuroscience will give him the skills he needs to bring AU's Center for Behavioral Neuroscience to the pinnacle of success. "I hope to use these experiences to promote the research and teaching interests of many of the outstanding faculty that are currently at AU," says Davidson. "But I also hope that these faculty members and I can use the center to entice young neuroscientists with excellent potential to start their careers at AU and to attract established researchers with strong records of scientific and teaching excellence to come to AU to continue their careers." Opening the center, according to Davidson, will make it much easier to boost AU's national and international visibility as a "hub of excellence" in behavioral neuroscience.
After teaching a variety of courses at Purdue, St. Olaf College, and Virginia Military Institute, Davidson finds the ones which have allowed him to interact with students on an individual basis have been the most rewarding. His most recent undergraduate advisee won a prestigious National Science Foundation Pre-doctoral Fellowship and is currently pursuing a PhD in psychological and brain sciences at Johns Hopkins University in Baltimore. His most recent PhD advisee just accepted a tenure-track assistant professorship in biology at the University of Southern California.
"I have worked with and been trained by some of the most outstanding scientists in the world," says Davidson. "Many of these have also been among the best people I have known. These relationships have been the most positive aspects of my experience as a professor."
Davidson strongly believes that the study of neuroscience will further allow AU students to fulfill their mission to turn ideas into action and action into service. "Knowledge of the structure and function of the brain is key to understanding serious cognitive, motor, and behavioral disorders such as Alzheimer's disease, Parkinson's disease, and obesity," says Davidson. Davidson's research has primarily focused on issues relating to obesity—an issue Americans are desperately trying to solve. "For students who are scientifically curious, undaunted by complexity, and exhilarated by intellectual challenges, the study of behavioral neuroscience offers the chance to have a genuinely positive impact on the world."