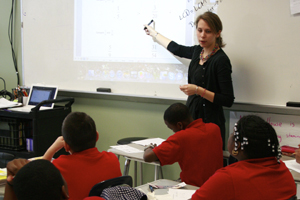 Photo courtesy of Katherine Collins.
Master Degree Options for TNTP/CTR Participants, Alumni and Staff
American University has partnered with TNTP Academy and the Capital Teaching Residency (TNTP/CTR) to offer Master degree options to TNTP/CTR teachers, alumni and staff. TNTP/CTR affiliated participants will be able to choose from six degrees in the School of Education, Teaching and Health (SETH) and affiliated schools. These programs are built on a cohort-based design, include discounted tuition for TNTP/CTR participants, and are designed for those participants who want to continue to make a difference in the lives of children and transform public schools.

Overview of Program Options
Masters in Special Education: Learning Disabilities (K-12) (30 credits)

Masters in Teaching: Bilingual Education (K-12) (30 credits)

Master of Education (MEd) in Curriculum and Instruction in Literacy (30 credits)

Master of Education (MEd) in Curriculum and Instruction in Educational Policy and Leadership (30 credits)

Dual Degree: Master of Education (MEd) in Curriculum and Instruction in Educational Policy and Leadership (30 credits) and a Master of Public Administration (MPA) or Masters in Public Policy (MPP) (30 credits)