Welcome Message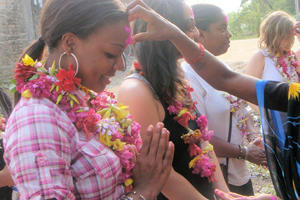 The Reverend Martin Luther King, Jr. observed, "…through our scientific genius we have made of the world a neighborhood; now through our moral and spiritual genius we must make of it a brotherhood." It seems, though, that we are farther from realizing King's vision today than when he spoke those words a half century ago, December, 1956 in Montgomery, Alabama. The ways and means to his vision remain elusive, and people throughout the world remain vulnerable to humankind's assaults upon itself.
If you are moved by Dr. King's challenge, you may well be interested in our International Training and Education Program (ITEP). The Master of Arts degree in ITEP will allow you to concentrate your study in international development education, global health, international exchange and study abroad, or global education.
In ITEP, we bring together committed faculty and students whose academic backgrounds and international experiences are rich and varied; this mix informs the teaching and learning in the program. We also work to ensure that all who join the program can take full advantage of the culturally and educationally enriching resources of Washington, D.C., one of the great international cities.

We welcome phone and e-mail inquiries and encourage you to visit American University to witness first-hand what we do in ITEP. We are proud of our commitment and of our excellence, and welcome inquiries from all who aspire to work toward our shared goals.
Charles A. Tesconi, Jr.
Director
To learn more about International Training and Education degree requirements and the program of study, visit http://www.american.edu/cas/seth/itep/ma-requirements.cfm.
A Note on Admission to ITEP:
ITEP is currently recruiting students for fall 2013 and spring 2014 admission. Applications are accepted on a rolling basis. Students who are not interested in enrolling full-time for their first semester are welcome to register for a course for credit as a non-degree student in order to gradually become involved in the program. You can find more information about applying as a non-degree student at http://www.american.edu/cas/advising/nondegree.cfm.
Students interested in learning about ITEP are invited to attend the College of Arts and Sciences Graduate Studies Open Houses. One open house is offered in each fall and spring semester. To learn more about the next scheduled event, email casgrad@american.edu. We are also happy to schedule personal visits for any individuals interested in learning more but unable to attend an open house. To plan your visit, email the ITEP Graduate Assistant at itep@american.edu.


ITEP Office Address
International Training and Education Program
Gray Building, Room 119
4400 Massachusetts Ave, NW
Washington, DC 20016
Find us using AU Campus Maps
For more information about the program, please contact the ITEP Graduate Assistant at itep@american.edu.
To sign up for our listserv, please send an email to itep@american.edu with "Subscribe" in the subject header.
Check out ITEP @ AU on Facebook to get in touch with current and prospective ITEP students as well as alumni.
Follow ITEP_AU on Twitter at to learn more about the field of international education and ITEP's activities.
ITEP Students and Alumni: Connect with your colleagues in the program by joining ITEP at AU's LinkedIn page.