Program Overview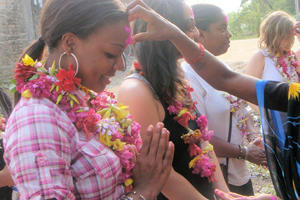 ITEP prepares students to pursue professional careers in international development education, international education exchange, global education, or global health.
Through courses students will gain knowledge, skills, and experiences in policy formulation, program/project design and management, training program design, adult and inter-cultural learning, and more.

Take advantage of our Washington, DC location to pursue internships, research, and career opportunities with major international and US agencies involved in international education. To learn more about International Training and Education degree requirements and the program of study, visit http://www.american.edu/cas/seth/itep/ma-requirements.cfm.
A Note on Admission to ITEP:
Submission deadline for merit award consideration is February 1, 2014

ITEP is currently recruiting students for Fall 2014 and Spring 2015 admission. Applications are accepted on a rolling basis. Students who are not interested in enrolling full-time for their first semester are welcome to register for a course for credit as a non-degree student in order to gradually become involved in the program. You can find more information about applying as a non-degree student at http://www.american.edu/cas/advising/nondegree.cfm.
Students interested in learning about ITEP are invited to attend the College of Arts and Sciences Graduate Studies Open Houses. One open house is offered in each fall and spring semester. To learn more about the next scheduled event, email casgrad@american.edu. We are also happy to schedule personal visits for any individuals interested in learning more but unable to attend an open house. To plan your visit, email the ITEP Graduate Assistant at itep@american.edu.
ITEP Office Address
International Training and Education Program
Gray Building, Room 119
4400 Massachusetts Ave, NW
Washington, DC 20016
Find us using AU Campus Maps
For more information about the program, please contact the ITEP Graduate Assistant at itep@american.edu.
To sign up for our listserv, please send an email to itep@american.edu with "Subscribe" in the subject header.
Check out ITEP @ AU on Facebook to get in touch with current and prospective ITEP students as well as alumni.
Follow ITEP_AU on Twitter at to learn more about the field of international education and ITEP's activities.
ITEP Students and Alumni: Connect with your colleagues in the program by joining ITEP at AU's LinkedIn page.