Beyond the Classroom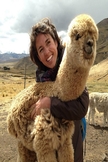 Anna Claire Eddington, ITEP 2015, on alpaca at the base of Mt. Ausangate, Peru while collecting data for her Capstone project.

Bulletins 
In November 2012 the Jumpstart DC at American University's blog, jumpstartatau.blogspot.com, went officially live! American University Corps members will be posting throughout the year reflecting on their service, telling their "great stories" or sharing moments of frustration.  It's a great way for you to learn more about the program and the impact we are making in the DC community. This content will also be echoed on the Jumpstart for Young Children's official blog, jstart.org/blog. Both blogs are updated frequently — be sure to check back often!
See also: Faculty News

Articles
The use of primary sources in warm up activities is the subject of SETH Adjunct Professor Amy Trenkle's article in the current issue of
Middle Level Learning.

Elementary Education major Zach Wright won AU's first Track and Field conference title in the high jump. Read more

SETH Student Teaching Supervisor Victorious Hall is interviewed in the website OurBlook about the Future of Education. Victorious teaches 8th grade and coordinates the afterschool program at William Whirt ES in PG County.