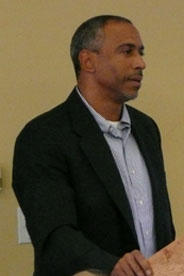 Dr. Pedro Noguera spoke about reducing the acheivement gap at a symposium hosted by the School of Education Teaching and Health at American University on February 28, 2008. Dr. Noguera is a professor at the New York University Steinhardt School of Culture, Education, and Human Development and the author of many publications, including his recent books, The Trouble With Black Boys: And Other Reflections on Race, Equity, and the Future of Public Education (2008) and Unfinished Business: Closing the Racial Achievement Gap in Our Schools (2006).
See also: Dr. Noguera's PowerPoint presentation.
Audio: Creating the Schools We Need for the 21st Century
Keynote address by Dr. Pedro Noguera with Q & A (1:51:45).